If you've been following me for a while, you'll know that affiliate marketing has never been my main method of monetisation for Stray Curls so it would have been really weird for me to share affiliate marketing tips then.
I rely on my own digital products (my eBooks mostly) for the majority of my income. And so far, it's been my bread and butter.
Affiliate marketing is a cool side dish – the mashed potatoes to my steak if you will.
But of late, I started taking a neat approach to affiliate marketing – promoting products that are created by experts in other fields (still related to blogging) and I found it quite a nice change!
Last month, I made $972 with affiliate marketing alone by just promoting a handful of products that I'm an affiliate for.
This is about 1/5th of my total income – the other 4/5th coming from my eBooks.
I don't believe in keeping secrets – so I thought I'd share all the affiliate marketing tips I implemented to get to this stage so quickly.
If you don't already have a blog, please read my super-nifty step-by-step blogging guide that will help you start a blog in less than ten minutes.
This post includes affiliate links to products I truly (from the bottom of my heart) recommend, meaning at no extra cost to you, I may earn a small percentage which I will use to feed my sweet, adorable pooches.


Before I begin, let's get to the fundamentals. Read this post on the different monetization methods you can implement in your blog before you read this one. Feel free to skip these sections by using the Table of Contents below.
What is affiliate marketing and how does it work?
Affiliate marketing is the process of earning a commission by promoting someone else's products. This someone else can be a person or a company.
For instance, I am not an expert on Pinterest.
I learned everything I needed to know about manual pinning from Carly's Pinteresting Strategies eCourse. So, I promote her eCourse on my blog/emails and earn a small commission when someone decides to buy this eCourse via my link.
Savvy?
Is affiliate marketing worth it?
It can be difficult to make sales in the beginning because affiliate marketing requires a lot of trust and brand loyalty (this is built over time), but if you blog for long enough and build a loyal audience that keeps coming back, you can definitely make affiliate marketing a huge part of your income.
When is the right time to start implementing affiliate marketing?
When you start a blog, you are starting from scratch. Affiliate marketing is a great way to make money blogging without taking the risk of making your own products.
If a certain product (that you are an affiliate for) doesn't make money, you can always switch to another or change your niche entirely.
This is one of the pros of affiliate marketing – it's a low risk!
Once you get a feel of which type of affiliate products are bringing you the most income, you can then hone in your expertise and start creating your own products – be it planners, eBooks, eCourses, etc.
This way, you're making sure that there is a perfect market for the type of product you want to create and you've understood your strengths of selling.
In short, affiliate marketing is the perfect monetization strategy for beginner bloggers because it's low risk and helps you gain some experience selling and marketing.
How much money can you really make with affiliate marketing?
When you start reading bloggers' income reports, it can be very disheartening to see people make so much money within 1-3 months.
If the blogger has made over $1K blogging in less than 3 months, then there are 4 possibilities:
This is not the blogger's first blog. They have had 1-5 previous blogs that have failed or just didn't grow as fast as they wanted and they now have the experience it takes to start a blog and grow it quickly.
They already have an audience that they've shifted over to their new blog – so making money was a breeze.
They are making money via their services – providing services like coaching, writing, drawing, etc. This makes it super easy to make an income.
They're fabricating their income report or are counting money that has not yet landed into their accounts.
Either way, nobody publishes an income report unless they're proud of it or want to earn some affiliate income.
This is the harsh truth of blogging. 
In my case, I was able to earn over $3K blogging within 6 months because I already had a blog before, and had several clients (I am an Illustrator) on retainer.
However, it took me another additional 2 years to make that same amount via my eBooks alone.
So, shifting from freelancing to digital product income did in fact take me a long time.
It didn't happen in 1 day or 1 month.
And yes, it's been totally worth it.
When you begin blogging and start implementing affiliate marketing, it can take 3-6 months to start making $100-$500. This again depends on which companies you're affiliated with and how often you post or garner traffic that converts.
But it can take a solid year to grow those earnings to over $1K.
Pairing up affiliate marketing with ads can help you cross the $1K mark within 18 months.
After which, the sky is the limit with affiliate marketing. That's why affiliate marketing is totally worth it!
Here are some posts that you might enjoy reading:
Affiliate marketing resources that have helped me boost my sales till this point
Before I go on rambling about what has worked for me, I want to give credit where it's due. I took two eCourses that have helped me understand affiliate marketing better.
I have read tons of other books and taken tons of courses, but these 2 were totally different and made a great impact on my earnings.
This eCourse taught me how to insert links in my posts (a lot of hacks are mentioned) that enable the reader to actually click on them easily and also taught me how to write good emails that showcase a product.
Email marketing has been my best return on investment till date so this eCourse proved to be very useful.
I used her tips to not only promote the GBTK bundle from Ultimate Bundles (which is a great Affiliate opportunity), but I've also used her eCourse to help me write better emails to promote my own products.
Both ways, they have helped me earn more than $1K per promotion, so I would say it's a wonderful investment for anyone wanting to get a better grip on affiliate marketing.
This eCourse helped me understand everything there is to know about amazon affiliate marketing.
Debbie (the creator of the eCourse) makes $4-5K per month via Amazon affiliate marketing alone. She's made over $180K in amazon commissions totally and I didn't hesitate to join after hearing raving reviews from my blogging circles.
Even though my website doesn't cater to amazon affiliate marketing entirely (it's a small subset of a subset), I learned a lot of things that I would never have learned if I had stuck to free blog posts and other eCourses.
I implemented her tips in October and saw the difference the very next month in my earnings.
I highly recommend that anyone who is dependent on Amazon affiliate marketing, take this eCourse.
Here are just a few things I learned from her eCourse:
What are the types of ads you should use and which convert the best and where
The difference between transactional and informational keywords and where to use them
Several types of posts you should write to maximize your Amazon earnings
How to leverage Tracking IDs
The best way to showcase your links
Overall, this is not information you can find for free anywhere else.
Check out her Amazon eCourse here.
I will be referencing these eCourses in the next few points.
Now, that we have covered the basics and you understand how affiliate marketing works, let's get down to the hacks, shall we?
Affiliate marketing tips – My best hacks for new and intermediate bloggers
1. Narrow down your target audience
The same rule applies to your blogging niche as well. The narrower you go, the easier it actually is to make money blogging.
It sounds counterintuitive, but it works because there are too many blogs on the market right now. The only way to stand out and be recognized is to be known for 1 thing.
My blog is about online businesses and blogging.
Please note that I know quite a bit about dogs and dog medical care, self-care, personal development, singing, etc. but I don't try to promote this knowledge on my blog.
Why?
Because people come to Stray Curls to learn how to make an income with their blogs. They want to become an expert in this 1 field.
If I wanted to talk about mental health or dogs, I'd start another blog.
I know exactly who my target audience is, and it helps me know what kind of products I should be promoting.
But is this enough?
Nope!
You need to go a little deeper.
Once you find out who your target audience is, and what their burning problems are, you need to dig deeper. By that, I mean you need to find out what solutions are they looking for.
For instance, a huge chunk of my audience is beginner bloggers looking to start blogs, be consistent and gain traffic. Not many of them are intermediate bloggers, so I don't promote products related to digital products or sales funnels often.
This is a rough estimate of what my audience looks like:
I mostly focus my posts and emails on gaining that initial traffic and being consistent because my audience who consists of beginner bloggers need more help finding their way.
Now that you know who your target audience is and what they need specifically, it becomes easier to find products you want to promote.
Get my drift?
2. Be extremely selective of the products/services you endorse
The absolute biggest booboo you can make affiliate marketing is promoting a product that sucks.
No, no, no. Don't do it.
At all.
You may earn a quick buck, but you will lose the reader for good.
I used to promote Bluehost (because they pay me very well) and I am a huge believer of using what I promote. But when my pageviews started growing over 35K, I noticed that I had outgrown Bluehost and switched to Dreamhost immediately.
Dreamhost pays me peanuts, but I have made it a point to include this information in all my posts despite the poor pay. I specifically mention that Bluehost is amazing for beginner bloggers, but I add that it's a good idea to switch to Dreamhost once the blogger crosses the 30K pageview mark because it is at that point that people need dedicated WordPress servers.
This has cost me a lot of affiliate marketing earnings. I used to earn $750+ per month via Bluehost alone, but it's dropped down to $100.
But despite the lack of Bluehost earnings, I gained trust.
My number of email subscribers went up, and I have a pretty high email open rate. People don't hesitate to buy my products or buy products I actually recommend because I speak up and tell the truth.
I talk to my readers like they're my friends.
Sometimes, I need to tone it down though.
Likewise, if you're promoting a product you haven't used, do your research well.
Do not lie and say it's the best product everrrrrrr if you have never used it.
Your readers can smell bullshit a mile away.
And the last thing you want is for your readers to sense your reviews are fake and leave you for some other mentor.
That's going to hurt you – bad.
It is important that you stand by the products you are an affiliate for.
Bringing me to my next point…
3. Be realistic about your product reviews
Whenever you promote a product, make sure you don't give it a 100/100 rating.
Why?
It's unrealistic.
People doubt what is too good to be true.
Recently, when I was discussing Pinterest and talking about how the eCourse Pinteresting Strategies helped me understand manual pinning better, I made sure to talk about what the eCourse was lacking. I clearly mentioned that it does not talk about Tailwind and does not cover Promoted pins in detail.
It only discusses manual pinning.
You may think this may have slaughtered my sales, but in fact, it did the opposite. My affiliate earnings shot through the roof (I cannot reveal how much I made because the earnings will be credited into my account in 3 months) but I can tell you that the results were worth it.
I didn't promote the eCourse after buying it. I tested it and showcased my results. Being authentic is the key to making affiliate marketing sales.
Basically, in less than 1 month of implementing her Pinterest strategies, my Pinterest traffic (clicks and engagement) went up!
And the best part?
I now spend only 10 minutes on Pinterest every day for both of my blogs. That's less than what I used to spend before! I haven't used Tailwind either. So, win-win! You can read my whole enchilada on Pinterest here. 
People who read the post saw my results and didn't hesitate to buy the product. They were floored and I received several emails telling me that the eCourse I had suggested was actually helping them get similar results!
4. Showcase your fabulous results
The proof is in the pudding, mon/ma ami(e).
Ever wonder why case studies do so well in converting people from non-buyers to buyers?
Because people love seeing results.
Simple.
I've been promoting Drawing Courses for a long time because it's the only product I have been using for 4 years+ without a break. And in order to get people to see how wonderful it is, I not only wrote a series of posts that helped Illustrators and Artists see its glory, I showcased my own drawing journey.
This particular image helped artists realize what a difference a little resource can make in their skills and their learning.
And after writing my post – how to become an Illustrator, I was able to boost my affiliate commissions immensely.
Here's the truth.
Pairing up a tutorial post while showcasing your results will work wonders for your affiliate commissions.
5. Create a specific round up of the best products
Back in 2019, I wrote a post called "Best 2019 Planners for lady entrepreneurs"
The post did really well and generated about $150 per month via Amazon affiliate marketing on average for the next 6 months.
Why?
Because it's super-specific.
It's not just best planners. Or best planners for women. But best planners for women bloggers.
Super, super-specific.
Basically, any woman who's a blogger who searches Google for a roundup of best planners is obviously looking to buy one herself to help her with her daily tasks that entail blogging.
So, it's a guaranteed win in terms of affiliate marketing for planners.
2 Planner Companies reached out to me to include their planners in my post and I not only earned affiliate earnings,  I earned extra commissions for those planners.
This is the point I'm trying to make when I say "be super specific"
6. Focus on email marketing
I took Meera Kothand's advice in early 2019 and doubled down on email marketing.
I'm by definition a story-teller so email marketing works for me.
I never run out of things to say. But when I do run out of things to promote, I just instil confidence and talk to my readers like they are my friends.
These few emails (1 in every 5 at least) goes out of the way to just be kind.
In the end, that's what your readers actually want – to be treated like human beings – not like cash cows.
This little tactic has helped me build a loyal audience.
It isn't very easy to accomplish and it definitely takes time but it is the backbone to building a passive income with your blog in the long run.
However, if you are promoting an affiliate product in your email, make sure you do the following:
Rely on text-based emails (deliverability and open rates are better)
Make sure you are not being too salesy but at the same time, talk about the product enough so that they understand how it can help them
Focus on the benefits of the product, not the features (a mistake that harmed my eBook sales initially)
Link to the product multiple times throughout the email to save the reader time scrolling
I highly recommend Carly's eCourse Affiliate Marketing for Bloggers if you're keen on learning email marketing and including affiliate links in your emails. She made over $8K in one email promotion series just by promoting 1 product.
And using the tips in her eCourse, I was able to make over $3K by writing an email series to my tiny email list within 8 months of blogging.
7. Strengthen popular posts by adding affiliate links and interlinking them
It is an undeniable truth that only a handful of your posts will contribute to the majority of your traffic. Once you find out which posts these are, go ahead and monetize them thoroughly by adding affiliate links to them.
My illustrator series posts became very popular and most of these blog posts rank on the front page for their respective keywords.
Once I noticed that this was happening, I went ahead and added affiliate links to all of them to related office stationery and Domestika/Udemy.
This boosted my affiliate earnings.
I also interlinked all the posts to strengthen their SEO and tell Google that all the posts are related to each other in one way or the other.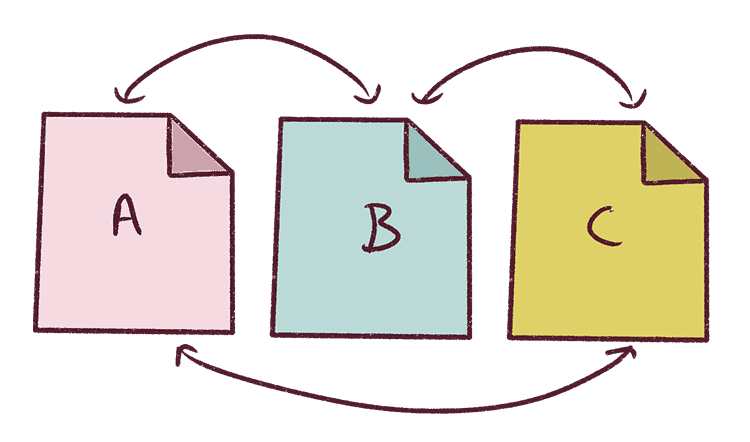 Remember to update your publish date once you update the post so that Google knows that you're frequently updating your content. Google loves bloggers who update their posts regularly.
This is one of the most powerful affiliate marketing tips that you can start implementing 6 months into blogging itself.
If you're keen on picking up SEO and understanding how to increase the chances of getting clicks to your affiliate links, I highly recommend checking out Debbie's eCourse – Journey to the Centre of Amazon.
Bonus tip: Rinse and Repeat
There are multiple methods you can try to boost your affiliate earnings. But once you notice a method is working splendidly, keep doing more of that.
This is what blogging is mainly about – trying multiple methods and doing more of what works.
The odds of succeeding become greater when you decide to focus on what works for you.
Here are some posts you might enjoy reading:
Conclusion:
To summarize the affiliate marketing tips I've mentioned above:
Narrow down your target audience and know who you're really helping.
Be super picky about the products you choose to promote
Write very realistic product reviews
Include your own case studies and results to support your reviews and get more affiliate sales
Be very specific about roundups (the longer your keyword, the better)
Focus on email marketing (this will help in the long run)
Add affiliate links to popular posts
I hope this post helped you understand what affiliate marketing is all about and gave you some in-depth info on how you can maximize your earnings by following these affiliate marketing tips.
Do you have any questions? What's your favourite hack? Or do you have a whole new affiliate marketing hack that works for you? Be a superhero and share it below! I will make it a point to reply asap.