Grab this ultra cute 15 page Self Care Planner!
There are a lot of printable self care planners that you can get online. But this planner is more detailed and much more fun! Not only will this colorful and feminine planner help you in your journey to self-care… but it is super, super cute!
Track your habits, set new goals and challenges and monitor your health as you transcend to becoming a better version of you.
This Planner is completely designed and illustrated by yours truly. *wink*
The best part? It's only $7!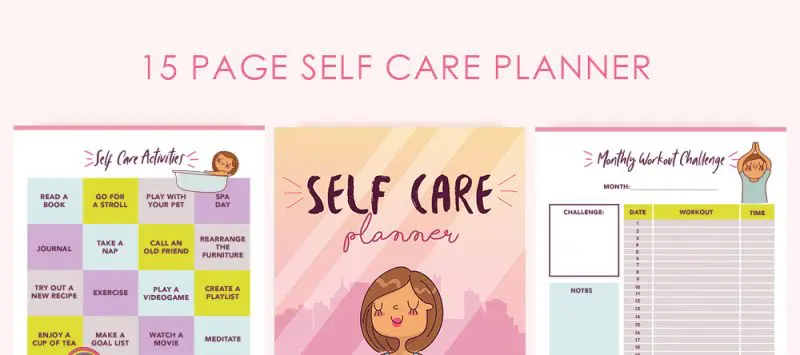 This 15 Page Self Care Planner Includes

1 Cover
3 Inspirational Quotes
Mood Chart
Meal Planner
Habit Tracker
Period Tracker
Self Care Activities Chart
Monthly Challenge Workout
Daily Journal
Fitness Goals Tracker
Self Care Planner
Beauty Routine
Vision Board
Here's what all you'll get, only for $7!
This planner is not only guaranteed to help you move towards self-love and self-care but is going to look adorable on your desk. The best part? You own it forever. Meaning you can keep printing pages whenever you run out, as the planner is undated.
It comes in A4 and A5 sized PDF pages that you can print easily.
What are you waiting for? 
It's only $7!
Would you like to be an affiliate?
If you loved this Self Planner and would love to make a 50% flat commission of every sale you make, simply join my Affiliate program right here!