What if you could gain traffic that actually converts into
sales and subscribers?
Do you want to wake up everyday to over 1K pageviews a day?
Tell me if this is you right now…
You started a blog easily, but now your brain is exploding with information overload.
You're relentlessly writing posts and promoting them on Social Media, but you're seeing no results. 
You've been at this for months and you feel like you're going nowhere with your blog. 
You're tired of earning peanuts with your blog. You want to make blogging a full-time income.
You're giving away freebies but nobody is buying your products or clicking on your affiliate links.


No matter what you do, your traffic is just not bringing you an income.

And what's worse is, you're seeing other great Bloggers showing off their monthly pageviews and income and you're wondering how they're doing it.
Let me introduce you to The Secret Sauce to Skyrocketing your Blog Traffic…
In my first blog, I was able to reach 50K pageviews/month within a year but I made no money. 
This is the one of the scariest situations to go through as a Blogger because everyone tells you that traffic is the answer.
This is where The Secret Sauce to Skyrocketing your Blog Traffic comes in.
This eBook teaches you to get the right kind of traffic. The traffic that earns you subscribers, sales and clients.
And it's not hard to do once you know how.
Your Blog has the power to make a full time income for you.
In this eBook, I break down the exact strategies I've implemented in this blog from Day 1 in order to make a full time income from it each month.
You can either spend years figuring this all out or just take the shortcut.

Now, that's where I come in. My name is Shortcut Angela.
I had to take care of my family and I was freelancing at the same time. I didn't want to spend tons of money on blogging courses or online classes.
So, I studied different strategies to grow my blog traffic from scratch all by myself. I've implemented tons of blogging strategies in my first year of blogging. Some of them worked. And some of them were a load of hogwash.
Through trial and error, I was able to grow my Blog from 0 pageviews to 18,000 pageviews in less than 3 months.
And month after month, I was able to more than double my email subscribers.
And within 5 months, I was earning over $3000 a month from my Blog!
Best of all? I achieved all of this without using ads on my website…
If I can do it, so can you!
If you're tired of being in a vicious circle of creating and posting content, this eBook is for you.
If you want to stop wasting time chasing pageviews that make you no money, this eBook is for you.
If you want to make your blog traffic work for you, this eBook is just for you.
In short, this eBook will teach you to create posts that attract the right audience and get them to trust you so that they click on your affiliate links and you make sales. It explains how to write posts and incorporate SEO so that you start ranking on Google immediately. This eBook doesn't skip any detail!

The best part?
You don't have to waste 5-8 hours on your blog every day. You can spend 2-3 hours per day on your blog and see results within a short time!
This eBook will teach you how to reach your 1K income goal without breaking your head!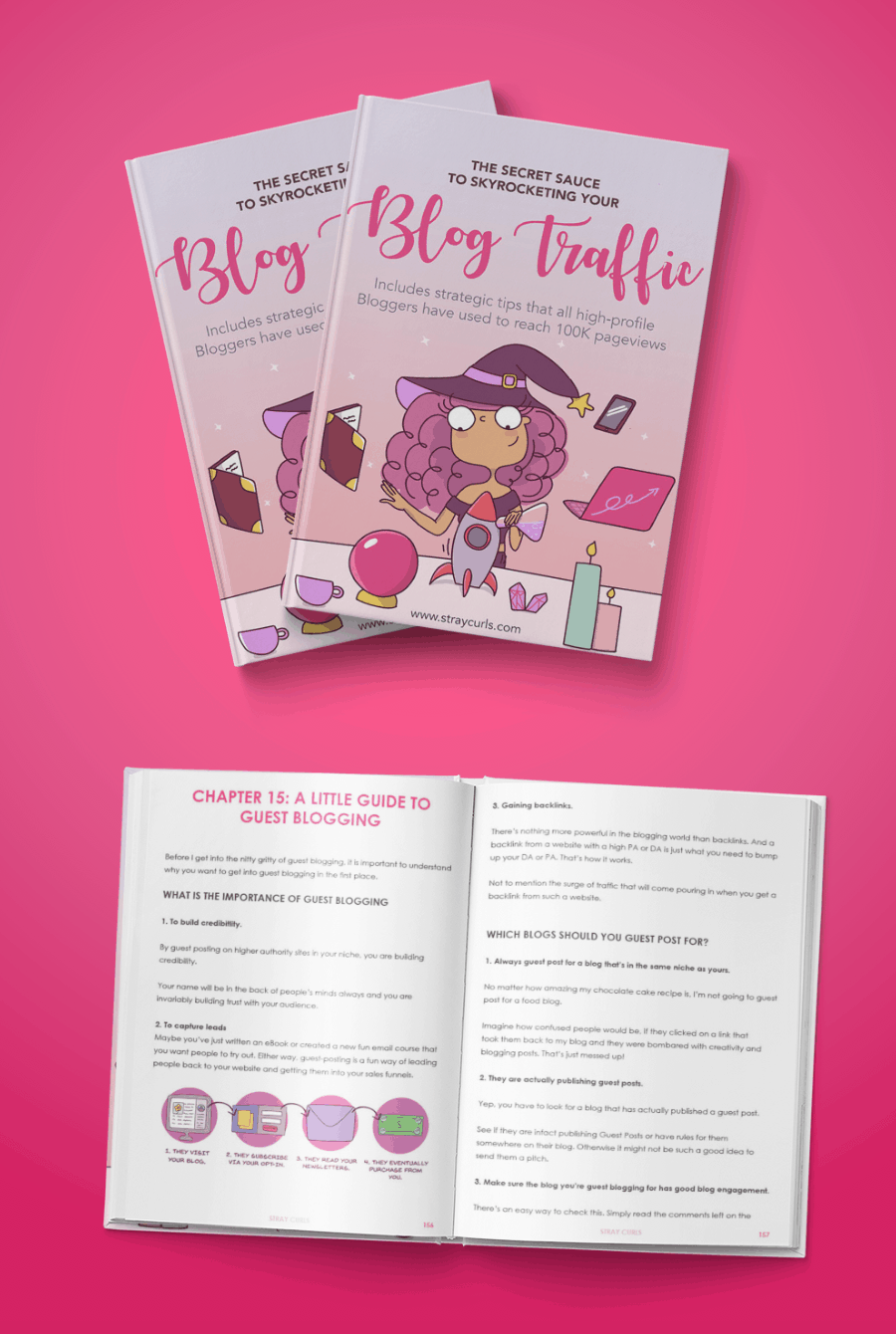 In this Traffic eBook, you will learn:
How to choose a profitable blog niche that actually makes you money
How to use Ads so that it doesn't drive people away
How to write Viral Posts that actually rank on Google's Front Page (my entire process revealed)
My fool-proof method for coming up with a Year's Worth of Content Ideas
What the heck are Keywords and how to actually use them to your advantage
Key Metrics that you need to watch out for in Google Analytics
How to use Email Marketing to strategically increase your Subscriber count!
How to create Lead Magnets that do not suck
Powerful networking tips to increase your reach
In-depth Backlinking strategies to boost your traffic
How to Automate your Social Media
The secret art of designing Pins that people actually want to click
I rank on the front page for multiple Keywords
With the combination of SEO and writing engaging content that built trust with my audience, I was able to land on the first page of Google Search Results for multiple keywords!
And, I cover every strategy I've used to get there in this eBook.
You will also get these sweet bonuses: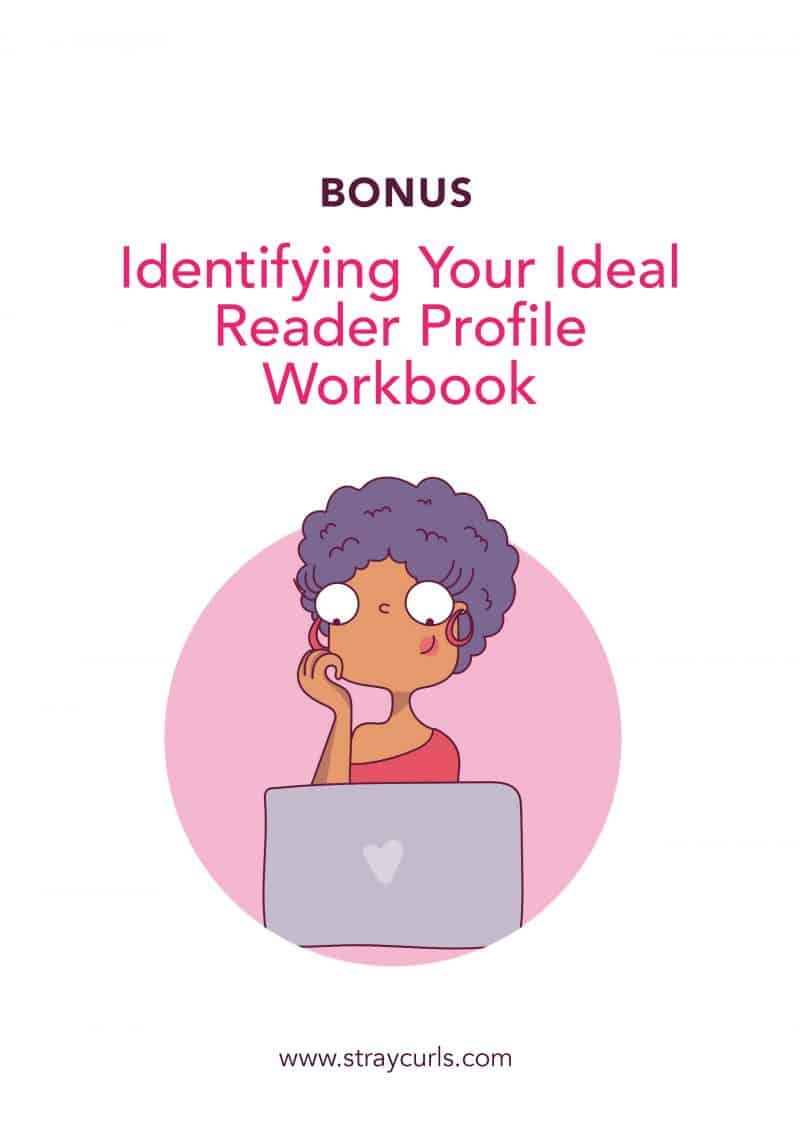 Ideal Reader Profile Workbook to help you identify your target audience so that you can write posts that attract more traffic!
Email Templates Swipe File that helps you write emails to reach out to other Influencers so that you can get high quality blog traffic!
Facebook Groups for Bloggers so that you can engage with like minded people and grow your blog traffic easily!
Who am I to be teaching you this?

Hey you! My name is Angela Mary Vaz. I'm an Illustrator and Comic Artist. And I teach women how to build beautiful and colorful Online Businesses.
I was just like you a little while ago.
I was confused, didn't know where to start and had no idea how to build an Online Business. Everything you see on my Blog is built from scratch. I learned how to code, how to draw and how to build a business all by myself.
I've grown a loyal following, have over 9K subscribers, and earn a full-time income with my Blog.
It took me years to do this.
But you don't need to.
I'm here to speed up your learning time and help you get to your first $1K a month, fast! If you've read my blog, you know I get down and dirty with extremely detailed tutorials. I don't like to fluff.
That's why I created this eBook to make gaining blog traffic super easy for you. I want you to make a full-time income with your Blog!
But don't just take my word for it…
Frequently Asked Questions:

How is this eBook different from other Traffic eBooks?
Angela Vaz
2020-06-26T09:08:53+00:00
What no one tells you is the middle part… The journey from after starting your blog to making it big. That's where this eBook stands out. By starting on the right track, you can save yourself a hell lot of time that you would normally spend researching and figuring these things out. Additionally this eBook contains lots of illustrations and screenshots to make your learning more fun and informative! If you make this purchase, you will get 200 pages of strategies that will change the way you blog!
In less than 6 months, you will have an engaged audience who continuously buys from you and your Blog.
You will know how to write to your subscribers so that they trust you and constantly leave raving comments on your Blog.
You will be making a full-time income from your Blog. And you can quit your 9-5 job that's tiring you and not letting you spend time with your family.
You can finally do what you love for a living.
With just one click…