I started the Stray Curls Blog in 2018.
But before that, I had another blog called Mary Angela Designs – which no longer exists because it was not making me much money and had zero direction.
I made a lot of mistakes with my previous blog, and this made me very hesitant to start blogging again.
But writing, drawing and creating is a passion that burns very strongly in my heart – and to deny that would be an immortal sin.
So, biting back my fear, I did some research while starting my second blog. This gave me the confidence to push through those difficult times when absolutely nothing was happening or going my way.
And now, this blog makes me $4-5K a month without me having to work much on it while occasionally releasing an online product – like ebooks, eCourses or printables.
And in this post, I'm going to cover what I did differently that made the most impact on my blogging earnings.
I've already written a few similar posts to this one, so you can read these (for more info) before you continue reading further:
This post includes affiliate links to products I truly (from the bottom of my heart) recommend, meaning at no extra cost to you, I may earn a small percentage which I will use to feed my sweet, adorable pooches.


1. Getting your foundation right
I knew that when I started this blog, I couldn't repeat my previous mistakes.
This meant starting on the right track like choosing a good paid theme and a good hosting.
If you're confused, you can read my 9K step-by-step guide on starting a blog where I delve more into detail.
Pick a type of blog you know will make money.
Once I completed designing my blog and creating the necessary pages like the Home Page, About Page and Contact page, I knew I had to narrow down my niche at the beginning itself.
You see, when you start a blog at the beginning, Google decides to watch you for 6-9 months (like a newborn baby) before it starts ranking pages.
They do this to see what category they can place you in.
If you write 20 posts related to personal growth and self-development in that time, it starts ranking you for those keywords. If you are iffy on choosing a profitable niche, then you can blog about 2-3 related fields as long as they are all directed to 1 type of target audience. 
So, while you are launching your blog and designing it, take some time to create a business plan for your blog. This will basically serve as a blueprint that you can keep coming back to whenever you're stuck and need some inspiration.
Once you're done with these fundamentals, plan out your blog posts for the next 3-4 months. This will give you direction and you won't get stuck thinking about what to post each week.
Here are some resources to help you get started:
And if you're ready to become more organized with your business and take the first step toward creating a strong and extremely easy-to-follow business plan, then check out my 40+ page business plan workbook that will take your blog to the next level!
2. Overcoming the need to be perfect at the beginning
You cannot get everything right in the beginning.
It's impossible because the learning curve is very high in the beginning. This is fine. You shouldn't bash yourself up or let it stop you from writing posts.
Progress is better than perfection.
For newbie bloggers, it can become really hard to focus on creating new content since they're busy comparing themselves to already-established bloggers.
That blogger you're looking at who's making 5-6 figures a year has probably worked tirelessly for 2-3 years to get their blog off the ground.
You don't know their whole story. You only see what they want to show you.
So, focus on your own blogging journey.
The only comparison you should be looking at is your own blog to yours 3-4 months ago.
Likewise, when you're narrowing down your niche, it's okay to blog about 2-3 topics and then slowly narrow down to your preferred topic within 6 months. This is the best time to experiment and see what is working for you and what is catching on with your audience.
3. Using a healthy mix of Pinterest and SEO
In the beginning, it is important to focus on both SEO and Pinterest – but more so on Pinterest.
Why?
Because Pinterest kicks off almost immediately whereas SEO takes a while to kick in.
Remember what I said about Google monitoring your content for a while before they start ranking? So, if you want Google to take you seriously, spend some time focusing on social media in the beginning.
I am no expert on Pinterest but I highly recommend Carly's eCourse Pinteresting Strategies. Use the code PINNING5 to get a $5 discount. I use all of her strategies and I have yet to find another blogger who knows about Pinterest as much as she does.
She keeps updating her eCourse each year to reflect which strategies work and which don't.
I only pin for about 5-10 minutes a day and the results really show!
These statistics you see under each pin are in the last 30 days. 
I've included my pinning strategy in this post. 
Whether you're looking to strengthen your Pinterest Game or your SEO, you need to focus on choosing keywords that you can rank for.
Here's a little strategy that's worked well for me.
Head on over to Moz to check your domain authority.
And then do the same for your competitors. If you are at 20-30, you can beat people at 40-50.
Then go on to Ubersuggest and type in their URLs. If you want an advanced paid Keyword Tool that's extremely accurate and affordable, I highly recommend KeySearch. You can use the KSDISC coupon code to avail yourself of 20% off.
You'll get a nice list of keywords that they are ranking for.
Your goal is to now write blog posts much, much better than theirs. Use this post to help you write a viral blog post. And by doing this, you will start to rank for posts for the keywords in your niche!
I started doing this and now I can aim for keywords that are more difficult to beat. Because once Google notices that you're ranking for certain keywords in your niche, they won't hesitate to rank you for similar keywords.
You need to prove to Google that you are writing for your audience. And analysing your competitor's best posts, helps you understand:
What is trending
What are people looking for
What Keywords are easy to rank for in your niche
That last point is super, super, super important. You don't want to aim for keywords that are hard to beat. It doesn't matter if you're on the second or third page of Google. Nobody will find your post.
Remember, at the end of the day, you want good traffic.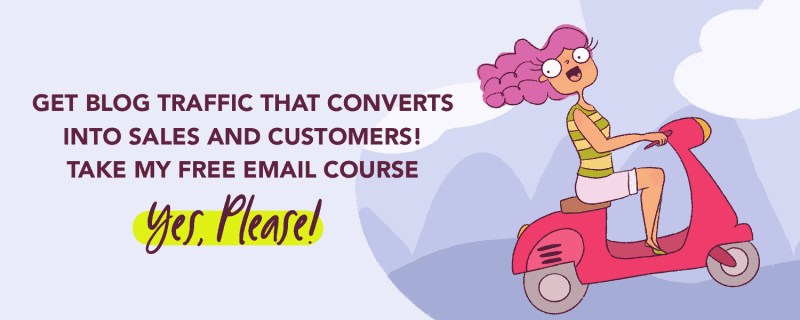 Not just random people coming to your blog and increasing your page views (although seeing those numbers is therapeutic). You want people that come, read your content, sign up to your mailing list and remember you as an expert in a particular topic.
THIS will help you build an email list of buyers – people that will not hesitate to buy your products when you release them or buy an affiliate product when you talk about it.
If you already have a blog full of posts and need some guidance on building sales funnels, read this. 
4. Doing more of what works
In order to actually grow each and every month, you want to focus on the feedback that Google gives you.
There are 2 ways to do this.
Use Google Analytics to look at which blog posts are popular among your peeps and keep updating that content to show Google how relevant you are.
I like to go back to these blog posts and add more content that makes it more thorough.
How do you do that?
Take the main keyword from that post and enter it in Google Search. You'll get a nice tab of People Also Ask questions. Now, here comes the fun bit!
Answer these questions in your post.
The questions will make great headings/sub-headings.
And if you need more questions, just click on 1 of the questions. It expands and the list does too! Answer as many questions as you can in your post.
Speeding up my website also did wonders for my traffic.
Speeding up your website will help you get more traffic and decrease your bounce rate. All this will signal to Google that your website provides a pleasant user experience and your rankings will rise.
Since my website is image-heavy, I just got ShortPixel and I love this image compression plugin so much! It works much better than Smush and it does everything automatically.
Besides, you can just buy their one-time plan of 30K images. It costs around $20 and it will be enough for you for a whole year.
If you're monitoring your traffic, then Google Search Console and Google Analytics are more than enough.
But what if you're monitoring your sales emails?
Every time I launch a product like an eBook or an eCourse, I send about 5-7 emails for the whole week during the launch.
And I monitor 2 statistics
What is the open rate? This helps me understand if I need to work on my subject lines and timing.
How many sales did the email result in? This helps me understand what works and what doesn't
If you need help writing your launch emails, I have an eBook that has the exact launch emails I used to sell my eBook that resulted in $3K in 1 week. Check it out!
5. Working on content silos
The idea behind ranking for your blogging niche is to try to master one topic completely.
I wrote a few posts for Artists and Illustrators in the past few years.
Most of them are ranking on the front page for their respective keywords now after nearly 2 years of writing them.
See, if you can see some relation between these titles:
10 Signs you are a natural-born artist
How to face negative comments as an artist
10 things nobody tells you about becoming an Illustrator
How to gain 100K followers on Instagram as an Artist
How to become a self-taught illustrator without a degree
All these posts are about 1 topic – becoming an artist or making it in the world as an artist.
Google likes when your posts show uniformity. Because it tells Google that you're an expert and knows what you're talking about. It builds trust with the Search Engine.
All these posts come under 1 category and they're all interlinked to each other.
This is how a content silo is made. It works wonders for your SEO and it becomes super easy to rank on the front page for their respective keywords.
If you haven't given it a go already, try creating a content silo and you'll see how much your traffic improves!
6. Learning only one thing at a time
At any point in time, you'll always find me learning just 1 thing.
Do not try to attempt mastering affiliate marketing, selling, writing emails, etc. all in 1 shot. It won't work. You'll get super confused and you won't know what to implement.
If you're getting started, work on learning about Traffic and SEO first.
Then slowly move to monetization methods and so on.
And when you're mastering one field of blogging, pick up 2-3 resources from different blogs on the matter. This will help you understand the topic much better and your perspective won't get skewed.
Before purchasing a resource, make sure that you read their blog posts to ensure that the blogger is genuine. Their writing/talking should also resonate with you.
If you feel the blogger is authentic, then don't hesitate to get their products.
7. Keeping a positive attitude throughout your blogging journey
You aren't going to see many results in your first year of blogging.
SEO keeps evolving and Google prefers ranking aged domains.
They do this for a reason. They want to weed out the newbie bloggers and they want to rank blogs that have gone out of their way to build trust and credibility.
This means you are going to receive zero instant gratification unlike on Instagram or Pinterest.
Now most bloggers give up when they can't see the numbers working for them. They feel they're doing something wrong and/or it's too hard and just give up blogging.
Don't be one of those bloggers.
Understand that this particular field takes a lot of time to master and as you keep blogging, you will not only get better at virtually everything, but you will also see the results of your hard work increase gradually and then all at once.
The growth isn't linear. It's exponential.
But in order to see that day, you need to be super consistent.
Now, if you're keen on reaching your goals faster and shortening your learning curve, I have an excellent resource that summarizes all the major takeaways:
The basic but most ignored tips which are crucial for building a successful blog
Included are all the important Traffic and SEO tips I've implemented to land on the front pages of Google Search
The steps that helped me discover my brand and voice
The best monetization methods that will bring you money quickly
My productivity tips that you can use instead of hiring a VA
My personal strategies for maintaining a positive mindset even when nothing is going right
Behold my superstar eBook – 50 Hacks.
Have you been blogging for over a year?
What is the biggest takeaway you've learned in your time blogging?