29Everybody wants to start a blog these days.
But very few people understand that there is a lot more to blogging than meets the eye. You can't just blog about anything you want to and hope that the money comes pouring in.
Realistically, if you want to start a blog, you need to take some time to see if the niche you've chosen has money-making potential.
And in this post, I want to cover the types of blogs that make money to help you pick a blogging niche close to your heart and reassure you that your blog baby will make you money blogging.
And you're not just wasting your time starting something that has no potential of taking off.
Apart from just listing the types of blogs that make money, I'm also going to give you examples of blogs in those niches and list some topics and categories so that you have a decent idea of how to go about it.
Ready Freddy?
Let's begin.
Now, if you don't have a blog or are thinking of starting one, I have a step-by-step guide here on starting a money-making blog that will help! Or you can take my free 7-day course on starting a blog that makes money from day 1!
This post includes affiliate links to products I truly (from the bottom of my heart) recommend, meaning at no extra cost to you, I may earn a small percentage which I will use to feed my sweet, adorable pooches.
What types of blogs make the most money?
Below, I've listed 13 types of blogs that make the most money.
Now, if you don't find your desired blogging niche in the list below, don't be disheartened.
I do not mean that these thirteen are the only blog types that make money. But these are the fastest to gain traffic and monetize because of their popularity.
If time is an issue for you and you really want to pick a blogging niche that's already proven to be profitable because you want to become financially independent, then you should consider these types of blogs.
I will talk more about this later.
1. Finance blogs
Yes, blogs that teach people to make and save money make the most money.
You don't need to be an Investing Genius to start one of these blogs. Even if you're good at saving money and know something the average person doesn't, you can start a blog in the finance niche.
When you do this, however, please identify your target audience. Because based on your target audience, the type of content you cover and your monetization strategies will change.
For instance, if you're targeting teens and college students, you cannot expect them to buy expensive courses that you create. You will have to stick to ads and affiliate marketing to make money.
However, if you're teaching middle-class families to save money or invest, then yes, you can make an income by selling something.
This niche is very versatile.
Here are some of the things you can teach people if you get into the personal finance niche:
How to make money online
How to save money and be frugal
Passive Income
How to invest, choose good insurance, etc.
Taxes
Guides about the best credit cards, loans, investment deals, and so on
Retirement policies and plans
The finance niche has inexhaustive topics, and if you feel you're an expert in any one of these or a variety of these, this may be a good blogging niche to get into.
Penny Pinchin' Mom is a great example of a finance blog that caters specifically to families looking to learn how to budget and get out of debt. Tracie Fobes also shares money-saving tips and tips for parents looking to live better lives with their families.
A Purple Life is another fascinating Finance Blog started by a Blogger at the age of 25 to record her journey because she wanted to become financially independent by the age of 35 and retire! She covers some really interesting financial topics for anyone who wants the same!
Finance blogs usually make money via ads, affiliate marketing, and courses.
2. Food blogs
If you live to eat and not the other way around, this blogging niche might be just what you're looking for!
This blogging niche is ideal for people who love to cook and/or bake and whose lives revolve around making food.
However, if you want to really become successful with a food blog in 2022, niche down further.
You can become an expert in a particular range of food.
For instance, here are some sub-niches in food that might interest you:
You can post recipes of food cooked in your country. This will attract people who want to cook indigenous food so that it will grow faster.
You can go down the baking route and post recipes only about baked goods.
Vegan cooking is growing in popularity, and a lot of people are shifting towards veganism. This is an excellent topic to blog about.
Keto diets are also extremely profitable.
Again, narrow down your target audience, and you will have faster success with your food blog.
If you're blogging about food for students, you can post recipes with super simple ingredients and be prepared within 15-30 minutes. If you're blogging for people who want to become fit, you can post healthy recipes.
For example, Oh My Veggies only posts vegan and vegetarian recipes. It's so inviting.
Likewise, Sarah from Broma posts beautiful recipes on baked goods.
Needless to say, if you do pursue a blog about food, you need to have basic food photography skills.
It's not that difficult, and learning food photography will help you grow your food blog so much faster because people eat with their eyes first!
You can take this really cost-effective food photography course on Domestika here. 
(Use STRAYCURLS-10 during checkout to get an additional 10% off)
You can check out other food photography courses here. 
When it comes to monetizing food blogs, the best way to monetize is via ads and affiliate marketing. Yes, you do need a large following to make decent money with this niche, but it's not impossible, especially if you follow my advice of niching down further.
3. Beauty or Fashion blogs
This niche obviously does well because fashion and beauty sell.
If you are interested in makeup, skincare, or fashion, you can easily start a blog in this niche and make it!
However, if you decide to start a fashion blog, you must complement it with social media like Pinterest, Instagram, or YouTube. Or better? Use a combination of these. This will help you double your blog traffic and hit that income goal faster.
When choosing to start a fashion or beauty blog, know and hone your niche. Whom are you blogging for?
Students who want to use drugstore make-up for college?
Career women, who want to apply nude make-up for office?
Middle-aged women who are rediscovering their style and developing a taste for fashion?
Moms, who want to dress their babies in adorable getups?
Once you understand your target niche, you can really grow your blog and your Instagram account!
One of my readers, Gabrielle Richens, has a lovely skin-care blog about anti-aging skin care products and techniques for women who want healthy, glowing skin.
She monetizes her blog via affiliate marketing for skincare products she uses and loves and her own skincare coaching services.
Once you grow your fashion or beauty blog and make it big, you can start your own clothing or make-up line. The possibilities are endless.
4. Personal Development Blogs
This is a very easy niche to get into, but it's also extremely competitive.
The key to building a personal development blog is to niche down and focus either on a particular topic or a particular target audience.
You also have to be extremely well-read to do well in this niche or have some degree in this field.
There are plenty of topics you can cover, and they aren't limited to:
Productivity and organization
Relationships
Minimalism and mindfulness
Self-care and self-love
Mental health
Quotes
Work and career
The topics are endless with personal development.
Take Beatrice from The Bliss Bean, for instance.
She doesn't blog about 1 topic entirely but instead chooses to focus on a particular target audience – young people who want to live a more meaningful and intentional life.
She also has an incredibly well-known Youtube Channel, and she's monetizing her blog via her own products like planners and courses.
This niche is pretty flexible with monetizing opportunities.
Once you start a self-development blog, you can monetize via ads, affiliate marketing, products, coaching, etc.
Additionally, you require really good photos to make this type of blog successful.
If you're not keen on picking up photography, take up a lifetime membership at either Pixistock or Styled Stock Society like I did because good stock photos can make a world of difference with your blog's traffic and branding.
If you're enjoying this post, you may also like:
5. Health and fitness blogs
If you are into health and/or fitness, this might be the perfect niche for you.
You don't need to be a fitness trainer to start this type of blog. If you share your experiences with weight loss or fitness, it's totally okay to do that.
Just make sure you research what you write and write about what works for you.
There are several topics you can choose and create a sub-niche blog in:
Weight loss
Mental health and wellness
Fitness
Health-related nutrition and recipes
Workout challenges
For instance, Cassey from Blogilates has an inspiring Fitness blog and complements her blog with Youtube and Instagram, where she posts workout challenges and plans.
She monetizes via her own products and services.
Pick up limes is another example of a beautiful and simple health blog that caters to healthy food and nutrition. Sadia also posts wellness-related posts on her blog and Youtube channel.
The benefit of starting health and fitness blogs is you can supplement your blog income with a Youtube channel and monetize your Youtube channel as well!
But the best way to make money in this niche is to build a large following and then sell your own products.
A word of caution: If you are covering topics related to mental health, please be careful. Add a disclaimer at the beginning of your posts if you are not an expert and mention that the views you talk about are your own. Add a note to advise people to seek professional help if you cover topics like suicide, depression and anxiety.
6. Mom blogs
This is a fun type of blog to start because mom blogs can be of two kinds. You can either pick a specific niche like parenting or a specific target audience and just write for moms in general.
Mom blogs have grown in popularity over the years because there are moms all over the world that look up posts when they need support or have questions.
This niche is great for you if you're a stay-at-home mom or have a part-time job and want to increase your earnings while working from home.
Here are some topics you can cover with your Mom blog:
Parenting
Productivity
Dealing with toddlers
Easy cooking recipes for moms with less time
Pregnancy, feeding, taking care of babies
Relationships
Teen parenting
Cleaning and organization
Budgeting
Finances
Traveling with children
You can take a lifestyle blog approach with this type of blog, but the bottom line is that this type of blog is geared toward an audience comprised mainly of moms looking to balance everything going on in their lives.
Carly from Mommy on Purpose is a wonderful example of a Mommy Blog. Her blog is extremely organized, and her posts do really well on Pinterest!
7. Pet blogs
Pet blogs do really well because people with pets generally bond really well and love taking part in communities to get to know other pet lovers.
They also answer many questions, and a person with a pet usually runs their pet's symptoms on Google before calling the vet.
If you have been around animals for a long time, or are super passionate about them, or are a vet and just want to share your knowledge about what you know with the world, this is an excellent niche to get into.
Here are some topics you can cover:
Posts for new pet owners (feeding schedules, training, etc.)
Pet product reviews
Pet health
Traveling with pets
Pet nutrition
Pet lifestyle
Caring for old pets
Dealing with the loss of a pet
Monetization with this blog isn't easy. It takes time to build SEO to this niche because you're growing from scratch.
Oh my Dog is an adorable dog blog that blogs about everything dogs.
You can start monetizing with ads and affiliate marketing.
As you grow your blog, you can add various other monetization strategies like creating your own pet products or tying up with pet product companies to do sponsored posts or even tying up with a Vet or offering your own consultations to help other pet owners in various situations.
This niche does require a bit of research, but if you're a pet person and have your heart set on this niche, don't think twice. Just do it.
8. DIY Craft Blogs
This is an extremely visual niche.
And it deals with creativity in general. So, if you are creating a DIY craft blog, make sure you focus on 1 niche.
Some types of DIY blogs are:
Knitting
Origami
Papercrafts
Coloring Pages
Art blogs
Home decor
Woodwork
DIY blogs come in various types, and you can mint money with these types of blogs because it does extremely well on Pinterest and Instagram. Tutorial posts are the most popular.
You can use your art blog to gain clients or sell your art or merchandise with your art on it.
Once your art blog grows, you can use that traffic to supplement your ad income and then try affiliate marketing.
Never Not Knitting is an example of a DIY blog that does really well. It's all about knitting, and there is no guesswork regarding what this niche is about.
The monetization strategies vary according to what sub-niche you pick. Ads and affiliate marketing is the basic strategy. But once you grow your blog, you can start selling your own products. Courses and eBooks do very well in this type of niche.
You can use SendOwl like I do to sell your products from your own Blog or redirect your audience to your Etsy shop.
Sendowl takes zero transaction fees, and there is only a flat fee to pay each month, so I prefer Sendowl to any other digital shop software.
>>TAKE A FREE TRIAL OF SENDOWL<<
Modge Podge rocks is a lovely DIY crafts blog that also fits within this type of blog. Amy covers everything craftsy like crafts, gifts, home decor; you name it! And because she works with crafts, she can expand and cover various topics since it all falls under the same niche – Crafts.
You may also like:
9. Parenting Blogs
Parenting blogs are very similar to Mom blogs, but they mostly cover only parenting tips and are aimed towards Parents.
So, if you have kids, you can pick either niche – A Mom blog or a Parenting blog.
If you want to target only moms, then a mom blog might be a better suggestion. But if you're planning on being more gender-neutral and want to cover in-depth topics in parenting – a parenting blog might be right up your alley!
Here are some topics you can cover in a Parenting blog:
Children's education
Children's lifestyle
Everything about babies, toddlers, children, and teenagers
Children's activities
Self-care for parents
Family tips
Pickle Bums is a cute Parenting blog that covers several of the above-mentioned topics.
Many parenting blogs sell eBooks, courses, or fun printables that parents can print at home, and they do really well.
10. Sustainable living blogs
Veganism and sustainable living have been growing in popularity over the past few years.
I believe they will continue to grow because more and more people realize the importance of saving the world and the environment.
These types of blogs raise awareness and actually contribute to changing the world directly.
So, if you are extremely passionate about the environment or green living, this niche is most apt for you!
Some of the topics you can talk about in this niche are:
Decluttering
Minimalism
Sustainable Living
Organization
Gardening
Recycling
Environment
Sustainable Fashion
Non-toxic living
Sustainably-Chic is one such blog that blogs about sustainable fashion, green beauty, and lifestyle.
Tory Stender also has a fast-growing Green Living blog that covers multiple topics related to sustainable living.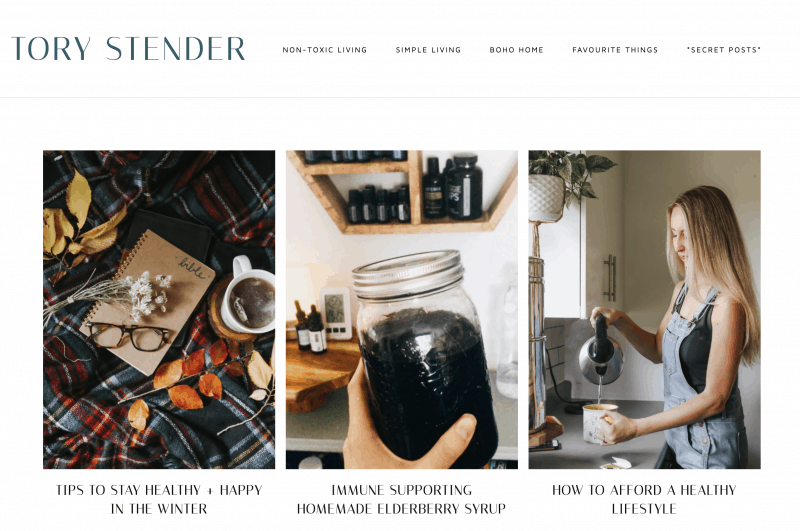 If you have a sustainable living blog, you can make money via ads, affiliate marketing, and courses. But you can work your way up to sponsored posts by writing to companies in your niche and asking them if you can promote them to your audience.
11. Christian Blogs
Christian blogs have always been popular, and they will continue to grow in the coming years as religion-type blogs are in high demand.
This is a type of lifestyle blog, and you can basically choose any sub-niche as long as you stick to a Christian approach.
Some of the topics Christian blogs cover are:
Christianity and growth
Faith
Relationships
Dating advice for singles
Marriage
Depression
Forgiveness
Death
Femme Elle is a lovely Christian Blog for women looking to live more peaceful and intentional lives in faith.
Religion is a controversial topic in today's day and age, and I highly recommend that if you are planning to start a Christian blog and really want to be successful, write your posts from a place of love, kindness, and acceptance.
Many people turn to religion when they're broken, and it's usually a cry for help.
A word of caution: Please add a disclaimer at the beginning of your posts asking people to get professional help if you cover topics like suicide, depression, grief, death or anxiety.
You can make money via the usual ads and affiliate marketing for this niche.
But once you grow your blog and email list, you can start holding group workshops or 1-1 sessions with people who want to talk to you or need guidance counseling.
12. Lifestyle Blogs
Similar to the mom and parenting blogs, a lifestyle blog usually aims at one particular target audience.
Please be very careful when starting a lifestyle blog. If you go too broad, Google will not see you as an expert in one niche and won't rank your posts easily.
So, niche down to a couple of topics that are relevant for the target audience you pick. This will help you grow faster!
Some of the topics a lifestyle blog can cover are:
Parenting
Self-improvement
Self-care
Productivity
Healthy Living
For instance, A Healthy Slice of Life is a lifestyle blog that blogs about multiple topics, but they're generally geared toward parents. So, in a way, it works as a parenting blog as well!
You can read my step-by-step guide on starting a lifestyle blog here. In this post, I also talk about my lifestyle blog and how I grew it from scratch.
You may also like:
13. Online Marketing and Business Blogs
This is one of the most popular types of blogs that make money because many people want to start blogs and make money. This niche is very easy to get into, but if you have no experience with blogs and create a blogging blog, it doesn't take long for people to figure it out.
So, if you've had experience with blogging or making money from home as a freelancer, or you've done SEO and marketing courses, then this type of blog may be suitable for you to start!
Some of the topics these types of blogs cover are:
Online Business
Marketing
SEO
Making money from home
Social Media
A great blog about blogging is Twins Mommy that Elna Cain writes.
She is an excellent writer and has a lot of experience writing for clients. Her audience is moms who work from home and want to make a living with their blogs.
Stray Curls (the blog you're currently reading) is also an online business blog covering all the above topics and more.
Although I do talk a lot about blogging, I try to write posts geared toward creative people as well, and I like to distinguish myself from others in this field by including a lot of my hand-drawn illustrations.
My audience is filled with artists and writers who start blogs at home and want to make money doing what they love – creating.
I am highlighting the differences because you need to know that there can be multiple blogs in the same niche that have different target audiences. Your blogging niche and your target audience can vary with the type of topics you choose to blog about.
Other types of Blogs that make money:
Other niches do really well too.
But you need to research them and understand how successful bloggers in those niches made it work.
Once you have a guideline or a roadmap, it becomes straightforward to grow these types of blogs and make money with them.
When you're just starting a blog, I highly suggest that you take your time to pick a niche that you know will grow fast. And once you have 1 successful blog under your niche, you can experiment with a different niche and go for something a little tougher to grow.
That's what I did as well. I started this creativity/blogging blog and eventually had the confidence to start a self-development blog.
Leslie from She reads romance books started this book blog (these are extremely difficult to monetize), but because she paid attention to SEO and took the time to write really detailed posts and use social media, her blog is doing really well.
So, of course, there are exceptions to every rule but if you want to increase your chances of success and want an easy blog path, stick to the types of blogs I've mentioned above.
How to find a profitable blogging niche?
Okay, so I've covered all the types of blogs that make money very easily.
Now, when it comes to choosing a niche, you need to account for 3 factors:
Do you have a passion for the topic or a similar topic?
Do you have the skills to teach this topic? If it's a niche that can be learned with a little research and reading, this is easily rectified.
Does it have money-making potential?
If you can find a blogging niche that satisfies all 3 factors, you've found your niche!
Choosing a blog niche requires a little bit of research on your end. So, what I would suggest you do, is look at other blogs in the niche you've picked. If you can find successful bloggers monetizing their blogs, watch them and see how they're bringing in traffic, what kind of posts they write, what kind of social media they are using, etc.
I discuss more on how to choose a profitable blogging niche here. 
How to make money blogging for beginners?
Before you pick a type of blog to start, see the money-making potential of the blogging niche. Not all blog niches can be monetized the same way.
But some of the most common methods of monetization are:
1. Ads
Ads slow down your website a bit, so I always suggest that my readers work on their blogs for 6 months and have at least 30 posts before applying to an ad network. Here are a few ad networks I recommend:
Ezoic – Their minimum requirement is 10K sessions a month before you apply.
Monumetric – You need to have 10K page views a month before you apply.
Mediavine – You need to have 50K sessions a month before you apply.
Please do not apply to Google Ads, they don't pay well, and they slow down your website heavily!
2. Affiliate marketing
This is one of the best monetization strategies that work with almost any type of blog. Because there are companies that you can tie up with in pretty much any niche and start promoting straight away. The only factors that you need to consider are:
Is the affiliate product/service in your niche?
Do you actually enjoy using this product/service?
Can you see yourself promoting this product/service to your readers?
Please be careful when picking affiliate companies.
You want to be very picky in the beginning because you are building trust with your readers, and you cannot jeopardize this over a few measly bucks. Promote something that you are comfortable promoting. Here are some affiliate marketing hacks you may enjoy!
3. Selling your own services/products
Once you've established yourself as an expert in your niche with at least 40-50 posts and have a decent email list of at least 2-5K subscribers, you can start promoting your own products and services. Because by then, you will have built a loyal following of readers who are super interested in the topics you're blogging about.
Why is this important? Because when you understand who your readers are and what they want from you, it's easier to create a product tailored for them! You don't need to break your head marketing that product for them.
For instance, most of my readers are beginner bloggers who require help starting their blogs and driving traffic to them, so I create more products for them than I do for my readers, who are intermediate bloggers.
If you are still a blogging newbie but want to try your hand with product creation, I recommend writing an eBook because it's a low-risk mini product. You can get my free 25-page ebook guide here. 
I cover more monetization strategies here. 
Do personal bloggers make money?
Gone are the days when you could blog about anything and make money blogging. Unless you're a celebrity and people want to know about your life and schedule, you cannot blog about anything and everything anymore.
You need to start a blog that does more for your readers than it does for yourself.
You are writing for your readers, not yourself.
And bloggers that niche down heavily and blog about a few topics grow much faster because they are seen as experts in that topic, and Google starts ranking those posts faster for those specific keywords in that niche.
How long does it take to make $500 per month?
To get to that stage where you're making $500 a month consistently depends on these factors:
You've started a blog in a profitable niche and are sure that this type of blog makes money
You're writing high-quality blog posts every single week that are related to your niche
You are using a healthy ratio of SEO and Pinterest to get blog traffic that sticks
You monetize your blog after 6-9 months except for affiliate marketing (that can be done almost immediately)
If you follow these steps, you can get to this stage easily in 1-2 years.
Please don't read income reports where bloggers say they've made $1K blogging in 2-3 months. It's not practical unless:
They've had 1-3 blogs prior and have had experience blogging
They're using their blog to gain clients for their freelance writing/graphic designing, etc.
Here are some posts that might help you better with this:
Resources to help you get to your first $1K per month blogging:
I know I covered a lot. I hope you got a fair idea of the different types of blogs that make money.
If you are reading this blog post, then there is a good chance that you're either considering starting a blog or are second-guessing your niche because you're not quite happy with it. Either way, don't fret. Here are some blog posts to help you with any part of your journey:
Starting a blog:
How to gain more blog traffic:
Monetising your blog:
And if you would like more help with Traffic, then check out my SEO Blueprint for bloggers, which teaches you everything you need to know about:
Keyword research – how to pick keywords in your niche and how to find related keywords to include in your post
Researching your Blog post – What areas you need to cover in your blog post, how to include those as headings, and how to outline and flesh the whole blog post
Publishing and Promoting the post: Now that the post is done, you need to let it fly. And I explain how you can submit it to Google Search Console, so it gets indexed faster and promote it in other ways so that it signals to Google that your post is worthy.
Updating posts that fall in rankings: I explain how you can use Google Search Console to see which posts are falling in rank or which posts have potential and optimize those posts for SEO to get more page views.
This eBook is just what you need to hit your daily 1K page views goal.
Okay, over to you. What type of blog you're considering starting? Leave a comment or a question, and I'll get back to you asap.