You read of others writing 2-3 blog posts per week.
Some of them write 2 to 3 a day.
And you're wrapping your head around how they're doing that.
Do they have a team of writers working for them?
Do they have a lab of monkeys brainwashed to write for them?
Are they using black magic?
What IS their secret?
Last week I was asked by one of my readers to share my tips on how I am able to maintain three blogs and not go crazy. So, I thought I'd share my schedule and tell you how I plan and write my blog posts.
In this post, I will share all my tips with you so that you can learn how to write a blog post fast.
Yes, it is possible to write a lot of blog posts each month. And write them fast.
I have three blogs, including Stray Curls.
And I'm currently writing 17 blog posts a month.
These blog posts are between 2K-10K words each, and they're in 3 different niches.
I also write weekly newsletters for my Stray Curls peeps.
So, I feel I have enough authority on the subject to tell you how to write blog posts fast.
Let's begin, daddy-yo.
This post includes affiliate links to products I truly (from the bottom of my heart) recommend, meaning at no extra cost to you, I may earn a small percentage which I will use to buy my poor dogs food.

How long does it take to write a blog post?
On average it can take some bloggers a few hours to write a blog post.
If they are writing their blog posts from scratch and require more time to edit the post or work on images, it can take them a few days to assemble the whole blog post before they're ready to publish.
So, overall it can take a person a few hours to a few days to finish writing a blog post.
However, there is a knack for bringing those hours down, and I'm going to show you how.
Writing a blog post on Stray Curls used to take me about two weeks to write and publish because I manually draw all my illustrations on my website.
But now, I've brought it down to 2 days by optimizing my research and writing heavily.
I've also cut off a lot of unnecessary processes and this has helped me focus more of my time on the newer blogs.
And I am able to write 15 additional posts for the new websites.
Okay, let's dive in!
How to write a blog post fast? 7 tips for writing blog posts much faster!
1. Decide how many posts you wish to write each month
Your content planning and research are the heavy liftings you will have to do at the beginning of the month.
You can also do it at the end of the previous month.
Decide in advance how many blog posts you wish to write for your blog. Let's say it's 10.
This means you'd have to finish 1 blog post every 3 days.
By planning how many you wish to write, you've already gone ahead and broken down the big goal into mini-goals.
This is my trick for doing anything that seems big!
Break the big goal into mini chunks.
That way, your work will become easier.
2. Do the keyword research for all the blog posts in 1 day
Keeping your research and writing on separate days will help you write your blog posts faster because you won't have to keep switching between tasks.
As much as we'd like to believe that we are excellent multi-taskers, we really aren't.
If you already have narrowed down a niche and are blogging consistently, keyword research shouldn't be a problem.
I use Ahrefs because I just love how the information is presented and how accurate it is.
But it can be a tad bit expensive for newer bloggers.
I myself only started using it at the end of last year.
The next best keyword tool I've found close to Ahrefs is KeySearch. You can use my code KSDISC to get a 20% discount.
I do all my keyword research at the beginning of the month.
I maintain a simple table in my Notes app.
If your blog has a domain authority of below 10, please use this keyword strategy:
Pick keywords with a low volume (it will be easier for you to rank on Google quickly) between 0-30 (yes, that low) and low keyword difficulty (0-5).
Pick long-tail keywords (I aim for keywords with 5+ words in them) like "how to stop overanalyzing in a relationship" or "best drawing books for children below 5."
Note the domain authority of each post which is ranking for that keyword on the front page of Google. If you find one that is below 20, you have a chance to rank.
Now, if the keyword fulfills all the criteria above, you've found yourself a good keyword!
Remember, if you choose a good keyword that you have a chance of ranking for, you've done most of the work.
Your blog's traffic depends on choosing the right keywords.
This is the fundamental basis of SEO.
3. Do the research for each blog post
Okay, let's say you're ready to write a blog post.
You have your keyword ready, and you know what the blog post will be about; what next?
How do you get started?
Firstly, you need to decide how many words the blog post will be.
Your length of the blog post has to be longer than the average length of the posts on the front page.
How do you find the length of any blog post?
Install the SEO Minion chrome extension in your Google Chrome (it's free) and enter the keyword in Google.
Open any blog post on any blog and click the SEO Minion tool on top of Chrome. Click on "Analyse On Page Seo."
And you will now see how many words the blog post is.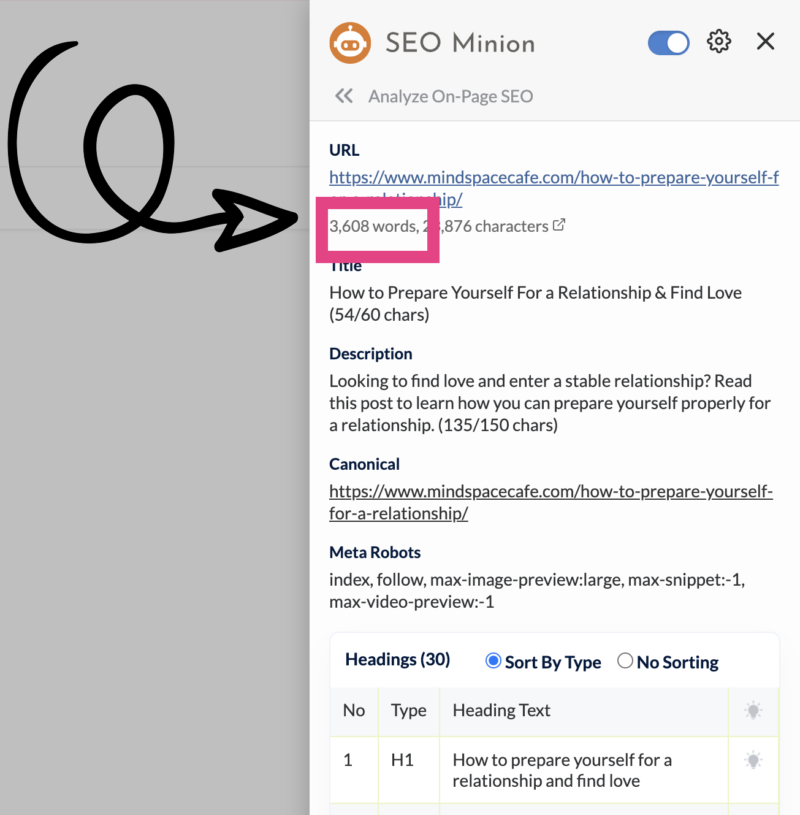 You will have to repeat this for each result on the front page.
There are a few things you need to note for each result:
How many words is each blog post? (The SEO minion extension will tell you)
What is the domain authority of each post? (If you find at least 1-2 that are below 20-30, you can replace that ranking with yours)
How many images does the average blog post have?
What is the search intent of that keyword? (Google will tell you what people are looking for)
Search intent is essential.
Because this is what you need to pay attention to when you're writing a blog post.
For instance, if you are aiming for the keyword "best email marketing software", you're not going to get posts that describe the best software. You'll instead get list posts of the top email marketing software.
So, pay attention to what is on the front page. Is it:
Lists?
Extensive how-to tutorials?
YouTube Videos (in this case, ditch the keyword because you aren't going to rank)
PDF files (you can rank and replace PDFs so write the blog post)
You now have all the information you need to write your blog post.
Your blog post has to be:
Longer than everyone else's on the front page. If the posts have an average of 500-1000 words, you need to write 1.5K-2K words to beat those posts.
Be more SEO optimized (Look at the posts on the front page and see how you can structure them better)
More helpful (Is there anything you can cover in your post that is missing from all the other posts? Can you be more helpful?)
I know writing posts fast is hard work.
But you have to write a good quality post no matter what.
As you keep writing, you will get faster and more organized.
There was a point in time I couldn't even imagine writing more than 10K words a month. Now I write over 70K words a month and find it totally doable.
Another thing to keep in mind is to not go into the research rabbit hole.
You shouldn't cross 1 hour with your research for each post.
So keep a timer. Otherwise, you could spend a whole day doing research – this is a big no-no!
To make your blog more organized, keep an excel document (I use Google Docs) to keep track of your content.
This helps me view my blog posts at a glance.
Here are a few more posts to help you with this:
4. Outline the post
Don't just start writing the post without having any idea about its structure.
This is where most people screw up because they are starting with a blank sheet.
It is difficult to churn out 5K words when you have absolutely nothing to start with.
So, first – write a blog outline.
This will serve as the skeleton of your post.
Remember how to structure the post:
Your blog post title will be in H1 (this is automatically coded in most WordPress Themes)
Your headers will be in H2.
All your subheaders will be in H3.
Your outline should have the following:
Introduction (no more than 200 words)
The meat of your post (Includes all the H2 and H3 headers). Please don't bother fleshing out the post at this point. We're just going to be writing the headings.
Conclusion (An apt conclusion that discusses the takeaways of the post)
Let's say I'm writing a post on How to draw a turtle.
My introduction will go like this:
"Drawing turtles can be tricky. However, in this post, I will talk about how you can draw a turtle. Follow this tutorial step by step and you'll be able to draw a turtle by the end of this post!"
Your keyword should be in your Introduction.
When writing the introduction, here's what you want to keep in mind:
State the problem and discuss how you will be solving it
Make sure that your introduction is no longer than 200 words (people don't have the patience to read through stories – they just want the solution)
Put your affiliate disclosure at the end of the introduction
After writing the introduction, flesh out the headings and sub-headings.
Don't bother filling in the paragraphs.
We'll do that later.
This is how the outline will look in terms of headers:
Okay, once you've written all the headings and sub-headings, write the conclusion.
In your entire blog post, only your introduction and conclusion should be fleshed out entirely.
That's all you need to do at this stage.
If you feel like there are some points under some headings you want to write, just write them in bulletin points. You don't need to go in and insert heavy paragraphs. Do not do that!
If you're having trouble fleshing out your headers, go to Google and enter the keyword.
You will notice a "People also ask:" box displayed along with the search results.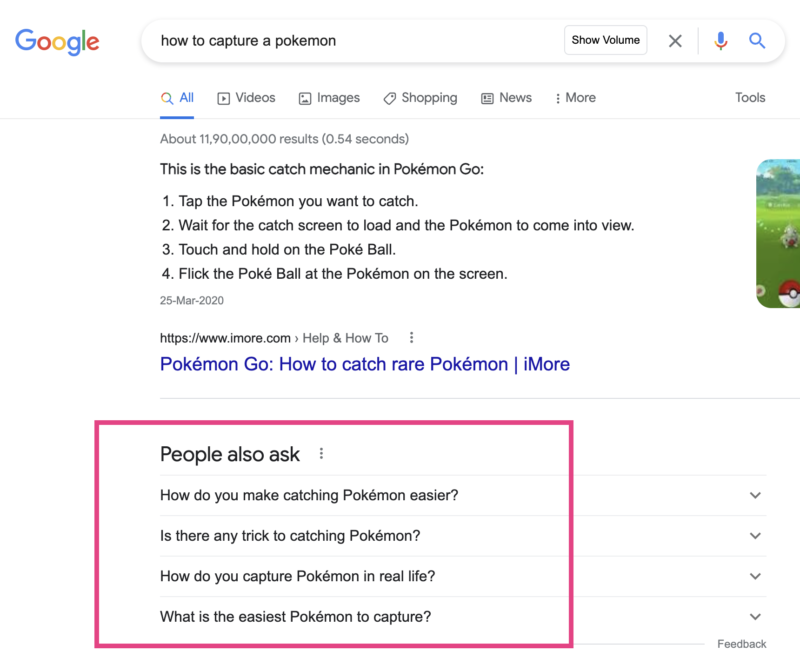 Include some of those questions as headers in your post.
This will tell Google that you are being super thorough and really want to help people answer the question.
Now that you've finished outlining the blog post, you're nearly done with writing the blog post.
All that's left to do is add the meat.
So, let's get to it!
5. Write the blog post
Most of your work is done.
You've finished all the research.
You've already written the outline.
All that's left is to write and edit the blog post before publishing it.
The whole research and outlining of the blog post should not take you over 2 hours.
Now, a lot of people use AI to write their blog posts.
I honestly find it a colossal waste of time because AI does spit out random words that you need to sit and edit. Editing is more time-consuming.
I'd rather write the blog post myself.
Google has also just said that they do not favor blogs that are using AI to generate their content, so please use AI at your own discretion and be careful when using it. Make sure you edit the blog post heavily so that it doesn't look like AI has generated your whole content.
In this stage, you want to be focusing on writing – not editing.
You already have the points outlined; all you have to do is add short, neat paragraphs to each heading and sub-heading.
Do not bother adding images or links or even researching at this point. If there is something that needs research, leave an asterisk (*) and get back to it later.
If I want to add an image, I usually just type [image -] to get back to that later and insert the image.
Here are a few things to keep in mind when writing your blog post:
Write short paragraphs. Each paragraph should not be longer than 2-3 sentences.
Include multiple lists of bulletin points or numbered lists. This will help break away from the monotonous text.
Infuse your personality into your writing. You don't want to sound like a robot. That is just going to drive away your readers.
While writing your blog post, remember to make sure it's SEO optimized.
That means really diving into your topic and making it thorough so that people coming to your blog post stay for longer.
You also have to include your keyword in the following places:
Blog Post title
Meta description (even a keyword variation will work)
Within the first 100 words of your blog post
In at least 1 H2 header and 1 H3 header
2-3 times in the whole blog post
In the alt tag of at least 2-4 images
You don't need to use your keyword in the post stringently; you can also use keyword variations.
For instance, if my chosen keyword for the blog post is "best drawing pencils for beginners," then the variations will be:
best pencils
pencils for drawing
drawing pencils
drawing pencils for artists
pencils for sketching
And all these keywords will help Google understand that the post is written for artists and is about pencils.
This also looks less forced and less spammy.
Keyword stuffing is a big no-no, so you have to find a way to insert keywords very organically so that it looks natural.
And the best way to do that is to use keyword variations.
6. Edit the post
Editing will easily take you an hour or more.
This is okay.
Editing the blog post is crucial because this is where you read what you've written and correct mistakes.
Please do not edit your blog post without Grammarly.
Grammarly makes proofreading so much easier.
I used the free version of Grammarly for a year before migrating to the paid version, and I haven't looked back since.
It makes editing a breeze.
It catches the silly mistakes that I often miss and even tells me how to improve my tone.
Grammarly has four functions that it checks: correctness, clarity, engagement, and delivery.
It underlines your mistakes in different colors.
Red for basic errors, grammar, spelling, and such. Blue for clarity, run-on sentences, and when it is unclear what you are referring to. Green is engagement. Are you using the best words? Some words are overused (I overuse "really" and "basically"), and finally, delivery, which is purple. Do you sound angry, friendly, confident, etc.?
The free version will help you with spelling, grammar, and punctuation errors.
Whether you're working in WordPress or Google Docs, drafting an email, or posting something on social media, Grammarly will make sure you never write "your" and "there" when you mean "you're" and "their."
And Grammarly Premium simply takes things up a notch.
It'll catch advanced grammar and punctuation mistakes (really important if you want to sound professional), help you with contextual spelling errors, and provide suggestions for improving your sentence structures, word choice, and readability.
It will even check for plagiarism so that you are not accidentally penalized by Google.
It makes editing so much faster and I honestly credit my fast writing to Grammarly.
While you are editing, you will also have to do the following:
Add internal links wherever required
Make sure that your affiliate links are marked no-follow and sponsored
Have at least one external link (this will help you build credibility and works best for your SEO)
Add images wherever required (make sure that your alt tag is SEO optimized as well)
Include bulletin points so that your paragraphs aren't long and boring
Shorten sentences that seem to go on forever
Take your time to edit your blog post.
It's okay if you take 1-2 hours.
Editing is crucial.
7. Publish and Promote
Once you finish writing and editing the blog post, it's time to hit that Publish button.
Unfortunately, your job isn't entirely done yet.
You still have to promote the heck out of that blog post to help it reach more people.
You can schedule it on your social media. I use SmarterQueue because it not only posts my posts on Facebook, Twitter and LinkedIn, it also recycles posts so I only have to feed it once in 2 months.
It's a huge time-saver!
And I create 3-5 pins and pin them on Pinterest just once. I reveal my entire manual pinning strategy here. 
I don't redo pins for that post until at least 3 months have passed, and if I notice that the pins are taking off, then I create new pins for that post and pin it accordingly.
All the Pinterest strategies I use are from this Pinterest course. 
I follow her methods for all my 3 blogs.
You can check out her course here. 
I prefer pinning in the evenings because that's when my audience is most active. My audience is primarily in the US.
Please do not rely too much on Pinterest because they are social media and social media is finicky.
A lot of ad networks deny your request to join if they see that majority of your traffic is coming from Pinterest.
They prefer organic traffic because it is more stable.
Please look at your analytics every month and see which blog posts are becoming more popular. Based on those, here's what you should do:
Optimize those blog posts for keywords so that they increase in rankings
Add a lead magnet to those posts to get more subscribers and traffic
Write more blog posts similar to those keywords to build topical authority
I explain more about topical authority and building silos in my SEO eBook.
If you cover a lot of blog posts around a specific topic, Google understands that you are an expert.
So, Google will start ranking you for all those keywords related to that keyword as well and you can increase your traffic exponentially.
Here's how I quadrupled my traffic to my new blog:
I looked at my top posts in January, and in February, I wrote posts similar to those.
For example, if you notice that a post you wrote titled "best paper for sketching artists" is doing well, write a post called "best paper for watercolor artists."
I kid you not; this traffic strategy works like gold.
I then went to the older posts and linked to the newer ones.
And voila!
Notice how my traffic shot up in March.
This little hack also doubled my ad earnings from the website.
This is all part of SEO, and if you really want to get serious about SEO and need someone to explain it to you, so it doesn't sound like jargon, please check out my eBook.
Apart from publishing your posts on social media, you also need to set aside some time for earning backlinks. You can use HARO.
But I found a pretty neat eBook that discusses several ways to score backlinks without any blogger outreach.
I've used her strategies to grow Mind Space Cafe's domain authority to 7.
The higher your domain authority, the easier it will be to rank for higher competition keywords.
Bonus tips on how to write a blog post fast
1. Increase your typing speed
If you want to blog full-time and want it to replace your job's income, you need to find a way to write faster.
I type race once in a while to maintain my speed of 100+ words per minute. Just go to play.typeracer.com and participate in a few races.
Try to get to over 80 words per minute to belt out posts quickly!
This is one of the best tips that I have used to write my blog posts quickly.
2. Write when no one is around
It is tough to write your blog posts when distractions surround you.
If you have a family, it will be challenging to write when you are constantly surrounded by noise.
So, find a time that works for you when no one is around.
The best time for me is the early mornings.
I wake up at 4:30, and I find this a blissful time to think and write.
Sometimes, I just use this time to plan my day to be more organized with my blogs.
Waking up early does take some time to get used to, but it is rewarding!
Give it a try.
3. Be organized with your blog
Having a content plan and doing your keyword research in advance will help you stay organized with your blog.
This will prevent you from wasting precious time throughout the month so that you can simply focus on writing more content for your blog.
You can also grab my free blog planner to help you be more organized with your blog.
Here are also a few posts that you may find interesting:
4. Pay attention to SEO
If you choose low-competition keywords and write heavily SEO-optimized blog posts, you don't even have to focus on promotion.
You can just aim for organic traffic and your posts will automatically start bringing in traffic.
If you are looking for an all-end solution for SEO and writing posts from start to finish, please grab my SEO eBook.
It has helped countless bloggers rank in Google.
5. Focus on content more
Google Algorithms have changed heavily in 2020 and 2021.
They favor blogs that post more content.
They do pay attention to quality, but they want niched blogs.
If you are blogging about 1 topic predominantly, use this opportunity to write more blog posts.
6. Ditch perfectionism
Remember, you need to keep putting out your content.
Your blog post is never going to be perfect. So, don't worry about being perfect.
You can always get back to your blog posts later and edit them.
Progress is better than perfection.
7. Take breaks
You cannot write for hours at a stretch; you are human. Your brain needs breaks.
So, walk away from the table.
Hydrate yourself and stretch your muscles.
Walk to the kitchen, play with your pups, and read a short article on your phone.
You'd be surprised how rejuvenated you feel when you get back.
You may even find that you're typing faster and with more vigor.
Ideas will flow quickly as well.
Take breaks.
It helps.
Frequently asked questions
1. How many blog posts should I write monthly?
There is no definite answer.
The key here is to write how many you are comfortable with. You shouldn't burn out.
If you already have a full-time job, I won't recommend writing more than 2-3 a week because it will stress you out.
However, if you are starting a new blog, please write at least 8-10 a month.
Your aim should be to get out those first 100 blog posts as soon as possible.
Try to finish 200K words a year.
This is what I am doing with my niched blogs.
I am currently writing:
2 a month for Stray Curls (about 10-15K words a month)
5 a month for Mind Space Cafe (about 15-20K words a month)
10 a month for my newest blog about Drawing (over 30K words a month) and I intend to increase that number
I do want to increase the quantity for my newest blog, but because I am traveling and have a lot of personal responsibilities, I am unable to dedicate that much time to writing blog posts right now.
2. I am not getting traffic despite writing so many posts; what am I doing wrong?
I get this question via email or my comments repeatedly.
There could be several reasons:
Your blog isn't old enough. Google favors old domains – at least a year old. So, wait for a few months and see if your posts are ranking.
You aren't writing in 1 specific niche, or your chosen niche isn't attracting much traffic.
You are not choosing the right keywords; you're choosing high competition keywords or aiming for keywords that you cannot possibly rank for.
Your articles aren't optimized for SEO, or your posts aren't good enough.
You aren't consistent with writing. You can't write five posts a month and 1 post the next. This is not going to help you rank on Google.
These are the most popular reasons your blog posts aren't getting traffic and your blog is not making money. 
If you're still stuck, leave a comment below, and I will take a look at your blog and help you out.
Conclusion: How to write a blog post fast
I know this was an extensive blog post, and you may find it challenging to do everything asap.
But with practice, you will be able to write blog posts faster because writing will become second nature to you.
I can currently write about 1.5-2K words per hour to write a 6-9K word blog post in under 4 hours.
I've reached this stage because I've been writing for years.
Trust me; it comes with practice.
Just keep writing and don't question the process so much.
Spend at least 2 hours a week learning about SEO and enhance your learning about writing content.
If you are writing more than 8 posts a month, you don't even need to supplement your traffic with social media. Your organic traffic is more than enough.
You have to build a content library – that's all you need to focus on in the beginning.
If you have any questions about blogging and SEO, please leave a comment below, and I'll be more than happy to help!
Additionally, here are a few more posts you might enjoy: