Why you need to plan your blog content strategy way ahead of time
Do you sometimes feel overwhelmed because you don't know what to blog about?
Or do find yourself with a book full of ideas but you have no clue which one to pick?
When you have a blog content strategy or have a fixed list of ideas that you're going to be writing about, for the next 3-6 months, blogging becomes super easy.
Let's see why a Blog Content Strategy can help you grow your blog more quickly.
1. It holds you accountable.
Half the work is done by planning your blog content strategy.
For instance, during the COVID crisis, I added a post in between my regular posting to highlight how Online Busineses can pivot their Blogs to adapt to the pandemic.
When you see that a blog post has to go out in 7 days, a switch goes off in your brain and a mental note is created.
You will be more inclined to work and finish the post before the deadline.
Most of the successful Bloggers you find will have a blog content strategy and plan prepared at least 6 months in advance.
2. It helps you stay organized.
Drafting your content in advance is a huge time hack for Bloggers.
After you publish a post, you don't need to scratch your head and search tirelessly for new topics to write about.
It's a good idea to keep a regular date for publishing posts. This allows your readers to know when to expect to hear from you.
What lovely hair you have, Miss…
Not only does this build trust but it makes you look like an Expert.
3. It gives you a lot of insight.
Last week, I noticed that my Amazon Affiliate sales were rather low. So I looked at my Blog Content Plan for the last 3 months, and would you know it… I've only been publishing tutorial posts.
I haven't published a single list post to promote my Amazon Affiliate sales in 3 months. This helps me understand what changes I need to make in my future content plan in order to achieve a certain objective.
Besides, how do you measure your Blog's success if you have nothing to compare it with?
If you have a content plan and constantly track your results, it's very easy to grow as a Blogger.
Now that we understand why a Blog Content Strategy is important, let's move on to learning how we can create one!
If you don't already have a blog, then you can read my step-by-step guide that will explain how to start a money-making blog in 10 minutes that stands out from the rest.
This post includes affiliate links, meaning at no extra cost to you, I might make a small commission if you decide to buy something and this money will be used to feed my poor lil' dogs. They are perennially hungry, my little ones.
Those little rascals…
Planning Ahead of Time
1. Create a schedule.
Before you even start pumping out ideas (I know you're super excited about doing this), hold back for a second and take a deep breath.
This is how Bloggers do "Yo-guh"
Look at your life and introspect.
How much time do you usually set aside to blog?
If you're just starting blogging, you're going to be very excited and will want to probably push out 3-5 posts a week.
Do. Not. Do. This.
Because as life catches up, and your responsibilities increase, you'll have to either sacrifice quality or decrease the number of posts you push out each week and this leads to inconsistent blogging.
Nothing is worse than an inconsistent blogger who pushes out 5 posts in Week 1 and 0 posts for 3 months after that.
This is why you require a Blog Content Strategy and Plan.
Eh?
So, set a realistic schedule and blog consistently.
Mine is 1 per week. If I write a really long post, then 1 in 2 weeks.
Remember, after 3-4 months, if you feel you can do more, you can always raise the number.
---
---
2. Know your objective.
Understand the main objective of your Blog currently.
What do you currently want to do?
Get Brand recognition
Drive traffic to your digital/physical shop
Get more email subscribers
Get more ad income
Please note that your objective can change every 3-4 months. And yes, you can focus on 2-3 at a time.
Example 1: Get Brand Recognition
For instance, when you just start blogging, you may want to gain an audience or make a name for yourself.
In this case, you can write posts that have a theme you know are already popular or are currently trending.
If you start a food blog, you may want to hop on board Keto Recipes because its super popular!
List posts get more shares and comments so, you should definitely focus more on writing those!
Example 2: Get more affiliate sales
In the second quarter, you may want to establish 2-3 monetization strategies. Like writing your first eBook, or applying to ad agencies.
In this case, you may write more affiliate based posts. Like tutorial posts promoting certain companies that you are an affiliate for.
If you have a Fashion and Lifestyle blog, you may publish 10 Vegan Beauty Products for Acne-Prone Skin.
Note: I have Acne in real life and this InnisFree Care Set is one of my favorites and has really worked for me.
Once you understand what your objective is for the next 3-4 months, you can plan what kind of posts you're going to write.
This will really help you reach your objectives!
You may also like: 7 Affiliate Marketing Hacks to boost your sales right now!
Researching all the data
3. Understand your target audience.
I am currently reading this amazing and very insightful eBook called 81 Days to Becoming an Online Sales Marketing Machine and this eBook highlighted a very important point.
Unless you pitch your idea to the right crowd, you will make 0 sales.
This is one of the biggest mistakes with my first eBook. Although the idea and the eBook were great, I was pitching to the wrong audience.
However, when I decided to write my second eBook, I spent 3 months figuring out what posts my audience liked.
Then, after I started publishing posts regularly, I surveyed my audience and asked them what problems they really faced when setting up their Blogs.
I gathered all my data and used it to write my eBook – The Secret Sauce for Skyrocketing your Blog Traffic.
A lot of my readers had trouble gaining traffic initially. And a lot of them had traffic but it wasn't converting into ad revenue or affiliate sales.
So, I didn't just create an eBook that discusses traffic strategies. I wrote an eBook that discussed how to get a lot of traffic that gets high conversions.
And once I was done, I didn't just start selling it. I took the time to plan a detailed sales strategy and then went ahead and launched my eBook.
So, before you start writing posts or ideas for posts, know whom you are going to be selling to in the future. Know who your target audience is.
Just because you are a Beauty Blogger, doesn't mean you should write for every single girl in the world that's interested in beauty products.
No, narrow it down.
You can either aim your Blog towards:
office going women who have no time to get ready but want to be beautiful and well-groomed (or)
teens who love trying out new hairstyles for school every day (or)
women looking into budget-friendly make up
P.S. I don't use mascara in real life but I want to
Once you know whom you're writing for, creating products becomes a piece of cake.
And selling the products (that your audience is now craving for) requires no convincing from your end.
That's because your audience has already told you what they want.
---
---
4. Research Keywords
Once you've nailed your target audience and you have an idea of where you want your Blog to be a few months from now, all that's left to do is to come up with content ideas.
You have to pick a few main keywords that you want your blog to be known for. These are basically the words people enter in the Google Search Bar.
You want your Blog to be one of the best in your niche. So, each and every post you write must be about a topic that is related to your keyword. This book really helped me write better posts.
Go to Google Keyword Planner. And use this to make a list of at least 10 long-tail keywords that you're going to be using for the next 3 months. Make sure that these keywords have high search volumes.
You can also use KWFinder for this. I use both of them in tandem for keywords I want. I really go more into detail in my free blog traffic email course which you can take here.
Think of your Blog as a huge book.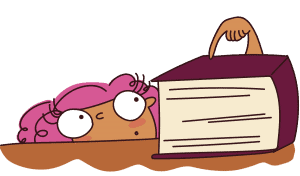 Lookie, lookie…
Each post you write becomes a chapter to your never-ending book. That's the main difference between a book and a blog.
A blog continuously grows and updates. The information on your blog does not have an expiry date.
People 3 years from now can read your Blog and find interesting posts that will educate or entertain them.
Aim for quality and long-term fulfilment by writing extremely valuable content.
The more posts you write about your niche, the more important your Blog becomes to Google.
A blog that has posted 100 posts on food will always outweigh a blog that has 10 posts on food, 10 posts on fashion, 10 posts on travel. Because it's more defined and thorough and focuses on only 1 topic.
Writing about one topic alone can get exhaustive, but if you delve deep, you will find multiple sub-topics within your 1 topic.
Google really values aged blogs with lots of information about a certain topic. Remember, it only wants to provide the best for its viewers.
So, if you're aiming for a particular niche, do not publish posts about anything else.
By continuously doing this, you will gain a lot of blog traffic rather quickly for mainly 2 reasons:
You will look like an expert in the said niche, which will result in more followers and better brand awareness.
Search Engines will understand that you are blogging about only 1 topic, therefore you are extremely knowledgeable about said topic and will automatically boost your posts.
Here are a few posts that will help you maximize your productivity if you're working from home:
Creating a Blog Content Strategy Plan
5. Create a Blog Content Calendar
Creating the calendar is the best part of this process.
You can either do this digitally via Trello or WordPress Calendar, or get down and dirty with a Physical Planner and some colorful pens and stickers.
I am more of a pen and paper girl so I use my own Illustrated Blog Planner (which you can buy here for only $9) to organize my entire blog.
I basically use this Planner for everything! It's by far one of my most favorite creations ever!
One of my favorite pages is the Blog Post Promotion Checklist.
And I love organizing my Newsletters too!
Overall, this little Baby consists of 50 pages and you can get it here for only $9! Apart from this, I also have a digital timetable that I've created using Excel:
---
---
6. Come up with tons of blog post ideas
This is easier said than done, I know.
But once you have defined your target audience, have done research on your niche and know the keywords you're going to be using, all that's left is to actually generate blog post ideas.
For this, I would suggest joining a couple of Facebook Groups for Bloggers and see the trending topics.
Look at what people are talking about, note their struggles and see if you can group those problems together.
For instance, in my niche, I noticed that people were constantly having trouble gaining blog traffic and decreasing their bounce rate, so I made 2 detailed posts on gaining blog traffic and decreasing bounce rate.
Apart from this, you can also look at your competition.
See the blog posts that tend to outdo the rest. These are the blog posts that will get over 20-50 comments. Try to understand why those particular blog posts do well and start researching on the same topic.
Now, I'm not suggesting that you copy blog posts from other Bloggers.
Don't be a copycat.
But study those blog posts and implement the things you've learned in yours.
For instance, I noticed that Bloggers in my niche tend to post a lot of Income Reports so I created my own Income Report!
It was a one-time thing but I was really happy with the result and my readers really loved that I shared a part of my blogging journey with them.
Another great idea is to log in to www.medium.com and see the latest news. I simply love this website because it gives me that raw burst of energy I need to start my day.
Meera Kothand's eBook: The One Hour Content Plan takes content planning to a whole new level. She describes what posts you need to create in order to achieve different goals for your Blog. And she gives you templates and there are worksheets involved too! I have successfully used to generate content ideas for my blog!
Follow the topics you love and read a little bit each day. Not only will this keep you up to date on what's happening but you'll never run out of ideas.
7. Start pumping out Quality Content.
Creating quality content becomes easy once you have a plan and all your ideas are organized.
When you release content on your Blog, remember to time it with your social media. Everything should be cohesive and work like clockwork.
I discuss the exact method I use to write a viral blog post here. Basically, a good blog post should have:
an extremely hooking introduction
well structured and formatted points
accompanying media that makes the post super interesting and rich
an apt conclusion
Don't worry about writing perfect blog posts in the beginning. As you write and publish posts, you will automatically find your voice and your writing style.
Long-form content is the best type of content.
So don't hold anything back. Give it all away.
Use lots of images and examples to keep readers engaged.
A pointless image to prove my point.
Once you start publishing content, remember to mix things up.
Once in a while publish a case study.
Or write a more personal and light-hearted post.
You can also interview someone in your niche like how I interviewed my darling friend, Chaitra.
Remember you need to be consistent and at the same time unpredictable and versatile. This will keep your audience on the edge of their seats.
They should wait to hear from you!
---
---
8. Creating a streamlined process
If you are pressed for time, you can group a bunch of similar tasks together.
For instance, you can come up with titles for the next 4 blog posts in one day, create 5-10 different pin images on another and create outlines on yet another day.
This saves loads of time and is one of the best time-saving hacks for bloggers!
Keep pushing things around so that it fits your schedule.
Remember blogging is your getaway and should not become a task. So if you discover that Tuesdays are the best days to post, push your publishing days to Tuesday.
If you feel that Saturdays are the best days to send newsletters, then send out your newsletters on Saturdays.
Conclusion
Creating a Blog Content Strategy and Plan definitely takes time but this particular strategy has really helped my blog become more streamlined and bring in a continuous income flow because I can decipher what's working and what isn't.
Here are a few posts that will help you maximize your productivity:
Additionally, it allows me to plan the type of posts I want based on the end result I'm expecting. And once you do this, you'll be prepared for virtually anything!
So, plan ahead and see the difference it makes for you and your Blog!
Over to you!
Are you a pen and paper girl or do you prefer keeping your content plan on a digital platform? Let me know in the comments below!