You're getting zero results.
You're constantly talking about your digital products or throwing in your affiliate links wherever relevant, but nothing seems to work.
No one is clicking on your affiliate links or buying your products.
Even if they do, it's very sporadic.
What gives!
So, you do what every Tom, Dick and Harry Polly, Molly and Dolly say.
Write and promote more content in order to generate more traffic.
Because obviously, traffic is the answer.
Now, you're stuck in a vicious cycle of writing, publishing, and promoting. And you're still on square one.
Take a deep breath and hear me out.
What if there was a better way?
What if you didn't have to chase pageviews to get more conversions or sales?
Well grasshopper, this is where a Sales Funnel comes in.
You see, most people don't buy from you the first time they see you. Even if you have created the greatest car in the world, nobody is going to give you a million dollars for it without a test-drive unless of course, you're an already established brand.
Likewise, people need time before they can make a purchase on your Blog – be it your service/product/affiliate link.
They need to be nurtured and get a sample of your personality and content before they hand over their cash.
Have you ever read a really good blog post and signed up to a person's mailing list only to receive hoards of emails asking you to buy something?
Sorry, Karen, you cannot force people to buy your products…
As a Blogger, you should focus on building trust and a strong relationship with your readers. Only once you've done this, should you push for the sale.
In this post, you're going to learn:
What is a sales funnel?
Why do you need one?
What are the different stages in a sales funnel?
A mini example of how a sales funnel works in the real world
How to build a profitable sales funnel
If you already have some knowledge in the matter, use the Table of Contents to skip to your preferred sub-section. But before you do, please download my super cool Workbook on building a simple yet profitable sales funnel!
This post includes affiliate links to products I truly (from the bottom of my heart) recommend, meaning at no extra cost to you, I may earn a small percentage which I will use to feed my sweet, adorable pooches.


What is a Sales Funnel?
First, let's tackle the elephant in the room – What exactly is a Sales Funnel?
A Sales Funnel is a journey that your customers take to purchase your product or service.
The reason why a Funnel is used in this analogy is that a lot of people enter the top-end but only a few of these will end up converting to customers.
Think of it this way.
People go in.
Money comes out.
It only took me an hour to make this gif
Almost every successful Blogger uses a Sales Funnel in their Blog or Online Business to generate a ton of sales. And in this post, I'm going to show you how easy it is to make one!
There are 5 stages in a Sales Funnel.
But before I explain each stage in detail, let me cover why you need a Sales Funnel in your Blog.
Why have a Sales Funnel?
I know this concept must sound alien and complex. And you're probably wondering why you even need it in the first place. So, let me share why:
1. You'll know exactly where you're slipping
As a blogger, you have to take the reader through multiple sequential stages for him/her to become a customer. This requires implementing a few strategic steps in each stage.
When you implement sales funnels in your Blog, you will understand where you're falling short and where people are dropping off.
This helps you understand your business better so you can improve wherever necessary!
For instance, I had no trouble gaining leads – in fact, it's one of my strengths.
However, I sucked at email marketing. I was good at writing engaging emails, but I sucked at asking for the sale or introducing my product to my readers.
Once I realized my weakness, I started working relentlessly on improving my email sequences and I was able to see results within 2-3 months.
And now, I generate sales on a daily basis in my sleep.
2. You'll have leads
Instead of constantly working towards getting more traffic, how about capturing your already existing traffic and marketing to them endlessly?
Doesn't that sound much, much easier?
This is exactly why you should implement a sales funnel. It works on converting your already existing readers into customers!
3. Launches are exhausting and aren't passive income
After you launch your incredible digital product, the sales undeniably start dying down.
Unless you find a way to automate your sales, you're going to have to keep pushing out content/digital products to keep making sales.
And it's not a good idea to launch the same product several times to your list in the same year. It will drain you and your readers will get sick and tired of seeing the same offer which may cause them to leave.
Setting a few sales funnels in your blog will make sure that you wake up to sales every single day.
Sales Funnels not only boost your monthly income but also makes your income more consistent. So if you're currently in that stage where you're making $200 one month and $2K the next, then you should welcome sales funnels with open arms.
4. People aren't ready to buy all the time
There may be people on your list who are not ready to buy at the moment but they may need and want your product 6 months or a year down the line.
These people need nurturing, education, and support until they're ready to purchase your product.
This is where a Sales Funnel comes in handy. Now that I've explained why you need one, let's get down to what actually comprises a sales funnel.
The 5 Stages of a Sales Funnel
Okay, children, there are only 5 stages in a Sales Funnel, and they are:
Awareness
Interest
Decision
Action
Retention
I know this is a lot of information to take in one shot, but I'm going to break it up so you understand it better.
Stage 1: Awareness
In this stage, the person gets to know that you exist.
Eyes up here, please.
You raise awareness of the problem that your readers have. They either click on a social media post or a Search Engine Result to land on your blog and read about it.
In this stage, you have to assume that your reader knows absolutely nothing about you.
They have just landed on your blog and are reading your content. So, the best way to attract more people to your blog is to create tons of share-worthy content and promote it heavily.
Obviously, since readers are becoming problem aware in this step, your posts need to be very thorough and informative.
You have to assume that your reader is a Beginner and explain the topic to them so well, that they understand that they have a problem.
This stage is crucial to your Business succeeding because this is the part where you make your reader fall in love with your Blog and Brand.
So, you have to give everything you have to garner interest from the reader.
Bringing me to my next point…
Stage 2: Interest
In this stage, the person reads your content and becomes interested in following you in some way.
In a totally non-creepy stalker way…
Usually, they sign up to your email list so that they can hear from you each week. Now, repeat after me:
"All your money lies in your email list."
I underestimated this particular statement when I started my first blog and that's why I made zero money.
Trust me when I say that you need an email list. Email marketing is the number 1 channel to make more sales or gain more clients.
So how do you get people onto your email list?
Gone are the days that people signed up to your email to hear "Newsletter updates." Now, you need a really good lead magnet.
A lead magnet is a freebie that you give to someone in exchange for their email address.
Please note that I use ConvertKit for my Email Marketing because it's seamless and my sales and subscribers doubled when I switched from Mailchimp to ConvertKit.
The proof is in the pudding screenshot
Your lead magnet needs to be highly optimized. The 3 characteristics of a brilliant lead magnet are:
It should be highly related to your niche and the product that you're pitching to them at the end of the sales funnel. Otherwise, it's not going to convert.
It should be fast to consume.
And it should be extremely valuable.
Do not push your product to the readers in this stage. Because you will come off as too "salesy" and it may turn your reader off.
I knew becoming a Carrot Saleswoman was a bad idea.
In this stage, continue to provide valuable education that shows the reader how helpful you are. You are priming your reader to purchase the product at the end.
In this stage, the reader is actively deciding to purchase your product or not. They may be considering several packages.
Or are just on the fence.
So, what is the best way to influence their decision?
A small trick I've learned is to give them a little push by offering them a limited time offer.
Uhh, maybe not in the literal sense
So, if the reader has reached the end of the email sequence and has still not purchased the product, I send them a targeted email after 2 days, offering the same product for 30% off. But the offer is time-sensitive.
The deadline pushes them to act fast and you can convert at least another 20-30% of the people who have reached the end of the funnel and have not purchased.
And the best part?
I don't use any paid plugins or expensive software for this like Deadline Funnels or Thrive Ultimatum. I simply use a free plugin and I explain this whole process in detail in my eBook – The Ultimate Guide to Creating Evergreen Sales Funnels.
Also, I use SendOwl to sell my digital products. It's the best way to sell digital products like eBooks.
NOTE: You can take a free trial of SendOwl here. I too started with a free trial with the intention to find something better in that time but I loved it so much, I never went back. I directly started paying for it.
Stage 4: Action
In this stage, the reader has decided to purchase from you. They pay you money in exchange for the product.
And you've just earned a customer!
Yes, and don't worry because it will wash off in a few years. 
Now that you've reached the end of the funnel, it doesn't mean you can close up shop.
There is a fifth stage. And it's called…
Stage 5: Retention
In this stage, you focus on making the customer super happy and supporting them till they're ready to buy from you again! I'll explain how to do this in a while.
It's 5 times easier to get a customer to purchase from you again than to earn a brand new prospect buyer.
That's a fact.
So, now that you have a clearer picture of what exactly comprises a sales funnel, let me show you a teeny tiny example.
A Mini Example of a Sales Funnel
For instance, let's say you have found the best Coffee Beans in the world and are selling packets of ground coffee in different flavors. You're selling these only online via Amazon or your website.
Now even though your product is one of the best in the world, you need to implement sales funnels in order to have a continuous flow of sales.
Your product differentiation is that your coffee is not only more pure than the coffee sold at regular Coffee stores, but it's much cheaper too.

You know for sure that your product is so great, that once someone purchases a pack, they're going to keep buying it.
Now, let's say someone sees your post on Facebook that talks about the different types of coffee they can consume and which type is best for which activity.
They head on over to your post and are thoroughly bowled over. They are extremely interested in what you have to say.
After reaching the end of your post, they notice that you're giving away 7 whole coffee recipes in the form of an eBook for free. They enter their email address on your website to download the eBook.
They are then nurtured for over 7 days with extremely valuable and educational emails related to coffee and how important it is to find the right type of beans to benefit from them.
Towards the end of the Sales Funnel, you talk about how their mornings would change with just a tweak in their morning coffee.
The person pops on over to your Online Store and buys a whole bag of coffee. They love your coffee so much, that they decide to go on to purchase 2 more bags of coffee.
You thus not only earned a Customer but made a few sales from just 1 person.
Therefore the best way to create a Sales Funnel is to work backward and create a sales funnel strategy.
That means analyzing your core offer and working your way backward to construct the Sales Funnel till the lead magnet.
Now imagine several people entering your funnel by downloading the lead magnet. Think of how many sales you can make by having created just 1 sales funnel.
All because you took the time to create 1 Sales Funnel and it was a 1-time process.
The Breakdown
When they see your post on Google Search or Facebook and read your post, it's AWARENESS.
The minute they sign up to receive the mini eBook, they're taking an INTEREST.
When they enter your email sequence and read your nurturing emails and are considering purchasing your product in the end, it's called a DECISION.
The second they purchase your product, it becomes an ACTION.
And when they constantly tell you how much they love your product and then go on to buy 4-5 more products or spread the message that your product is the best, you've just entered the RETENTION stage.
They are now your Brand Ambassadors!
There are many sales funnel examples you can think of like leading the reader to a coaching service, or a branding eCourse but the basic template remains the same.
How do you build a Profitable Sales Funnel?
Now obviously, there are loads of ways to go about choosing a sales funnel strategy, but I'll show you the most popular and effective one that's worked for me and several other Bloggers in the past.
This is what it looks like:
I know it looks like a lot, but baby steps… We'll cover each step slowly.
Step 1: Identify who your target audience is
This is the most important step in your Sales Funnel. If you're attracting the wrong traffic, no matter what you do (like sacrificing a stuffed bear to the Rain Gods) you're not going to convert that traffic.
So, don't waste your time trying to attract everyone. Because the chances of you converting these people into buyers is close to zero. Instead, focus on targeting people that will become your customers.
If I wanted to sell a sketchbook, I would target Artists, Architects, and Designers.
I know for a fact that these people use Sketchbooks daily and I know that they will be interested in buying one at some point in time soon.
Get as detailed as you can when you're painting this mental picture of your Ideal Customer Avatar. I explain how you can identify your target audience in this post.
In my case, when I was mapping out Customer's Journey for my Blog Traffic eBook, I knew that I was targeting women who:
Were in their 20s to 50s
Wanted to spend more time with their family so they'd started blogs that needed to grow quickly
Wanted to help pay the bills
Were looking for a no-nonsense traffic guide
Will be hanging out on blogs that talk about starting blogs or growing traffic
Needed their blogs to make $1K a month so that they could quit their jobs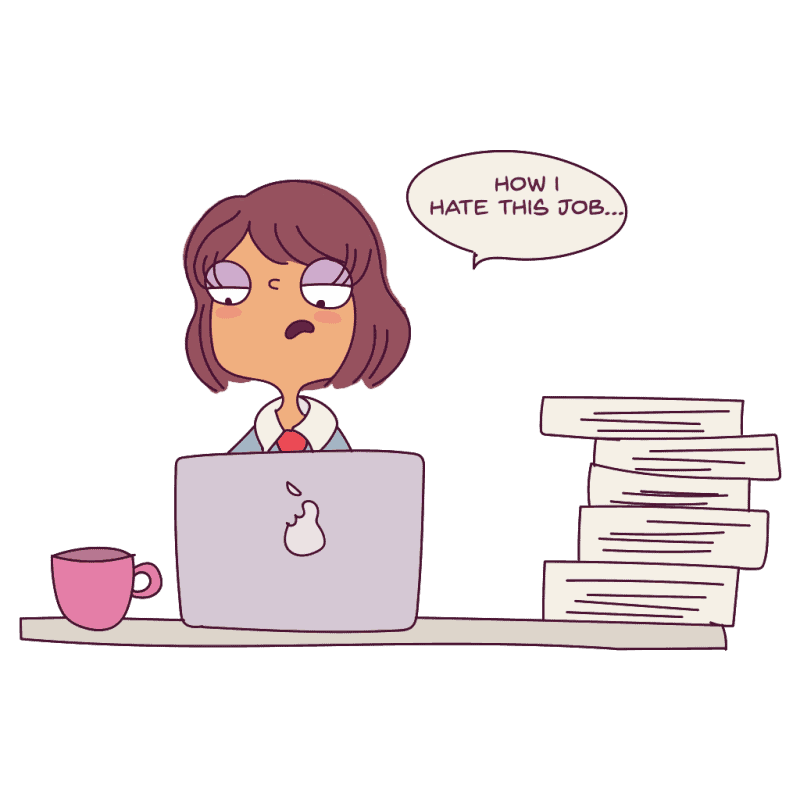 I formed sample profiles to help me nail my email sequence strategy
This helped me understand what kind of posts I needed to write to attract them and where I needed to promote them.
This is a crucial step that many bloggers miss out on because they feel it's unimportant. But doing this one step will increase your conversion rate tremendously.
You will not only understand how to present your offer to them, but you will know how to speak their language and be able to relate to them so much that they won't be able to resist your offer.
I've included a few questions in the Sales Funnel Workbook that will help you identify your target audience! Get it now.
Step 2: Write scrumptious content that woos over your target audience
Your content is going to attract people into your sales funnel. So, you'll want to nail this step.
Easier said than done, I know.
First of all, let me start by saying that it is not easy to keep pushing out good quality content. There is a lot that goes into this.
To write engaging content that clicks with your audience, you need to know what they want. Head on over to your Google Analytics and take a look at Behaviour> Site Content> All Pages and see what are your popular posts.
Can you draw a pattern between your popular posts?
Is it possible to write similar posts to increase engagement?
Could recycle that content into a different format to attract a whole new crowd?
Similarly, you can also hop onto Ubersuggest and type in your competitors' names in the Search Bar.
Try to spot a trend in their top content. This will help you understand what kind of posts do well in your niche. 
Once you've done this, take a deep breath and write an outstanding post that knocks everyone else's out of the park! This is the best way to succeed.
All my posts are between 3-5K words and drawing individual illustrations for each one takes me a lot of time, but it's worth it because it gets me to the front page of Google for multiple keywords!
Your content should make your readers drool with desire. They should click link after link on your website till they're ready to hit the sack. You need to get emails like these:
Writing is definitely hard work.
And approximately 20% of your posts will bring in 80% of your traffic. It's one of the harsh truths about blogging but it's something we need to accept as bloggers.
This means that every post we write could be the 1 in 20% that goes onto becoming viral.
So, aim to strike gold with every single post you publish.
For instance, Pallavi Juneja blogs about Curly Hair. Everything on her Blog is related to caring for curls.
So, she not only writes detailed tutorials on her blog covering all types of content related to curly hair, but she also creates fun and educational videos with informative curly hair tips that she posts on her Youtube Channel and her Instagram Business Page.
People with curly hair read her posts, or see her content on Social Media and purchase products that she's an affiliate for and she earns a commission!
Or take Morgan, who is an Etsy Genius and has a Signature eCourse that teaches people to improve their Etsy game so that they can make more sales. How does she attract people into her Sales Funnel?
By writing blog posts that specifically target people who want to rank on Etsy and make more sales.
So, before you sit down and start banging out content like a chimp on a typewriter, ask yourself who is really going to buy your product or service? 
Sure, I believe you, Madeline. 
If you're having trouble coming up with post ideas, sit and write a Business plan for your blog. And plan your content around this so that you can get more people into your Sales Funnel.
Remember, some people aren't even aware of the problem you are solving.
Some may know that they have a problem but don't know what the solution is. And those that are deliberately searching for a solution need to realize that yours is the best one.
In my Evergreen Sales Funnel eBook, I explain how to create a content strategy and write posts to attract specific people in different stages of their customer journey.
Step 3: Create an irresistible lead magnet to capture all that sweet traffic into your Sales Funnel
Okay, so you're writing glorious content that's attracting the right audience. Now on average, 70% of the people that visit your website, leave without ever coming back.
This is such a huge waste. And a letdown.
The best way to capture your traffic is to offer your readers a lead magnet that they just cannot resist.
[bctt tweet="The best way to capture your traffic is to offer your readers a lead magnet that they just cannot resist." username="straycurls92″]
Fun Fact: I have a high metabolism so I can eat quite a bit without putting on a pound. 
Here are some excellent ways to get people to subscribe to your website:
For instance, when you're on Melyssa's Website, there's a pop-up that asks you to register for her workshop and this eventually leads to her paid e-Course.
Or, as you're reading Adam's Blog posts, you'll be invited to his private vault so you get access to over 15 goodies that will help you grow your blog.
Or let's take a beautiful and posh eCommerce website like Rifle Paper Co (whom I get all my planners from). When you visit their website, they immediately offer you a coupon code in exchange for your email address.
These are just a few examples of what you could offer your audience, but you can get really creative!
Just make sure that your lead magnet is highly related to your core-offer – that is the product/service you're pitching them at the end of the sales funnel.
You don't want to offer a 60 Things to Do When You're Bored Checklist and then pitch them an illustration service at the end of the funnel.
That's a disaster just waiting to happen. I know, because I've made the very same mistake.
A quick refresher: Your opt-in/lead magnet should be something that:
Is pretty (because at the end of the day, everyone does judge a book by its cover)
Your reader actually wants
Is related to your end product/service
Is quick and easy to consume
This means an 8-page workbook is preferable over an 80 page eBook.
Remember, there are 6 million blogs, and everyone's fighting to be the best. Your lead magnet has to be digestible and should get the reader to implement action immediately.
So have a nice opt-in form in every blog post. If possible, keep an exit-intent opt-in form that pops up the second a reader tries to leave.
Now, if you're looking to make some pretty lead magnets, BluChic has the world's most beautiful Canva Lead Magnet Templates in the world. They're offering 5o different pages for 5 types of lead magnets. It's a steal.
Once you've created your lead magnet and created a separate landing page for it, make sure that you go out of the way to promote it:
Put an opt-in form on your Home page and About Page
Make sure that it's on the top and bottom of related blog posts
Create several pins for it and schedule it with Tailwind so that you have a continuous flow of people getting into your email list
Promote it on your social media by including varying titles and add it to your Social Media Scheduling App so that you have a steady stream of subscribers flowing in.
I currently use SmarterQueue because they keep recycling your content so that you don't have to spend hours coming up with content and they're extremely cost-friendly!
>>You can take their 30 day trial here!<<
Step 4: Set up a tripwire/thank you page
So, what exactly is a tripwire?
A tripwire is an irresistible, low-priced offer whose sole purpose is to convert your audience into buyers.
It's easier to ask for a sale for $100 or $1000 product at the end of the funnel when your readers have already had a taste of your paid content.
Think of it like this:
You walk into a shop and see a very expensive bag of cookies. The branding is brilliant and you really want to purchase it but you're worried that it will not taste as good you believe, so you walk away.
But if there was a woman offering cookie samples and you got to taste the product, the probability of you buying a cookie bag now increases tenfold!
[bctt tweet="You walk into a shop and see a very expensive bag of cookies. The branding is brilliant and you really want to purchase it but you're worried that it will not taste as good you believe, so you walk away. But if there was a woman offering cookie samples and you got to taste the product, the probability of you buying a cookie bag now increases tenfold!" username="straycurls92″]
Unless of course, you're the type of person that just likes to gorge on free samples. Then, this doesn't apply to you.
Please look away while I gorge on these cookies.
A reader is usually directed to a tripwire after they have opted in for a freebie. And the tripwire page is timed. So, this urges the reader to make the purchase.
Step 5: Follow it up with a nurturing, automated email sequence sales funnel
You have attracted the right audience and you've gotten them onto your email list.
Now you need to nurture them. This means, that you have to build trust and a good rapport so that they feel comfortable purchasing from you.
Because at the end of the day, you can have the best product in the world – but if you don't build trust, you cannot make a sale.
[bctt tweet="Because at the end of the day, you can have the best product in the world – but if you don't build trust, you cannot make a sale. " username="straycurls92″]
Now you need to create a path that slowly introduces them to your product and then raises the desire for it.
This is the best way to lead your specific target audience to your product/service.
There are loads of ways you can go about this. You can create an email course that slowly brings awareness to the problem and then show them how you have the solution and how it's the best.
Step 6: Lead them to a Sales Page that they cannot resist
Once you've nurtured your readers, you can take a deep breath because half of your work is done.
You've led them to the river. Now they need to take a drink.
This means your Sales Page needs to be excellent. Remember, your sales page is just the nudge they need to make the purchase.
Here are a few hacks to get your nail your Sales Page:
Your hook needs to draw the reader in. The first line of your Sales Page should make the reader desire the product.
Eliminate all distractions like headers and footers. You want your sole focus to be the product.
Focus on the benefits of your product. Not the features. Your reader doesn't want to know about your product. They want to know how the product will help them become a better version of themselves or help them improve something – like make more money, or lose more weight, or gain clarity on their business, save time and become more productive, etc.
Build credibility by including a Bio that's completely you. Don't try to be someone else. Explain why you are the best person to teach them what you're talking about. Give them a reason to trust you. Make yourself more human by including a photo of yourself.
Paint a picture of their lives once they purchase the product/service. This is crucial to bagging the sale. When they realize what their lives could be like if they purchased your product, you can be pretty sure that they're going to hit the "Buy now" button.
Include a juicy bonus: I did this with my first two eBooks and I saw the difference it made when selling them. Your Bonuses need to be so juicy, that people crave to buy the product just for the bonuses!

In my eBook The Complete Guide to Creating Evergreen Sales Funnels, I delve into the secret sauce of writing sales pages that actually converts to sales!
Step 7: Provide an easy checkout
Remember to make the checkout process super easy to encourage more sales. The more clicks the person requires to checkout, the easier it becomes to lose the sale.
I use SendOwl for my digital products mainly because:
The transaction fee is zero. They only take a flat monthly fee which is very tiny.
They have an excellent affiliate program. Anyone can become an affiliate and promote your products!
Their checkout process is really easy.
One of my dear friends Karen has a beautiful eBook on setting up Sendowl so that you can get started easily.
If you're considering creating an eCourse, I highly suggest Teachable. I love the user experience. And it's cost-friendly for beginners. You can host unlimited courses and have unlimited students even on the free plan!
Step 8: Remember to follow up so you can retain your customers!
Okay, you've gotten the sale – congratulations! But your job is not over yet. Remember, it's much easier to get a customer to buy from you again than to try and attract a new customer.
So, how do you do this?
Send a nice follow-up sequence after a person has purchased from you.
If you integrate ConvertKit and SendOwl, you can automatically tag someone when they make a purchase via SendOwl. Karen has a lovely book here that will teach you how to set up Sendowl.
So, the minute someone purchases a product say "Apple Pie", they're tagged in ConvertKit as "purchased Apple Pie". And you can set up an automation for anyone who's tagged with "Purchased Apple Pie" to enter your follow-up sequence.
In your sequence, you can automate an email to send to them 10-20 days after their purchase to see if they're enjoying their purchase and have started taking action. You can even ask them for a testimonial or take a short product survey, and give them a freebie if they submit a testimonial.
After about 30 days, you can give them a small bonus product and again check in on them to see whether they've enjoyed your product.
It may seem like such a small thing to do, but trust me… it makes a huge difference.
Do you want my email sequence template I send to people right after they subscribe? Download my free Sales Funnel Workbook and start working on your sales funnel strategy today!
Conclusion (finally…)
Starting a blog is a piece of cake. Every Blogger will encourage you to do it. But going from random sales to a consistent income is not easy. It takes a lot of thinking, consistent hard work, and a hell lot of patience.
Sales Funnels can be confusing at first. But trust me, it gets easier with time.
Take your first step and map out your customer's journey first. Download my Sales Funnel workbook here if you haven't already.
Remember, nobody is going to visit your blog and jump to your sales page and buy your products or services. It's a long journey. Think about the last time you bought an eCourse, eBook, or service online.
Did you just randomly click buy? Or did you hop around and do some research first, compare products, and then buy?
Now, once you build your sales funnel, you need to keep testing and tweaking till it's flawless. This means pausing and measuring your results at every step. Like checking if you're attracting the right kind of traffic, or measuring the number of leads you're getting with your traffic.
So, what do you say? Are you going to start building your sales funnel now?
Let me know in the comments below!
Share this Image On Your Site